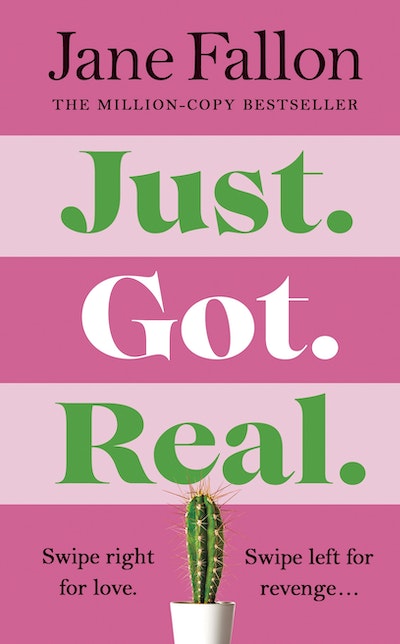 Published:

5 July 2022

ISBN:

9780241541166

Imprint:

Michael Joseph

Format:

Trade Paperback

Pages:

400

RRP:

$32.99
Just Got Real
The hilarious and addictive Sunday Times bestseller
---
---
---
The Queen of the Revenge Comedy turns her eye to online dating in her hilarious sharp new novel
Joni never thought she would try online dating. She's so nervous that she posts fake photos - but when she starts talking to Ant, who's desperate to meet her, she doesn't dare come clean. Instead, Joni finds a way to meet Ant without revealing her true identity. It's perfect, it works, and she's happy - until a few months in, Joni discovers she wasn't the only one being deceitful: on Ant's phone are intimate messages between him and two other women.
Hurt and furious, Joni calls the women. They're angry. They want revenge. But how exactly will they get it?

Published:

5 July 2022

ISBN:

9780241541166

Imprint:

Michael Joseph

Format:

Trade Paperback

Pages:

400

RRP:

$32.99
Another Fallonesque treat. Full of heart, humour and humanity. She's so good at tapping into the best and the worst in us. Fabulous

RUTH JONES
Funny, insightful, sharp, wicked, brilliant

MILLY JOHNSON
We adore Jane Fallon's novels, and this witty page-turner could be her best yet

Closer
Ingenious. Her eye for detail, compressed emotion and the absurdity that lurks beneath what people say to each other, is unerring. One of our very finest comic novelists

Tortoise Media
I LOVE her books. She always delivers a fabaliss read

MARIAN KEYES
Intelligent, edgy and witty

Glamour
A romcom with attitude

Mail on Sunday
PRAISE FOR JANE FALLON

- -
Witty, smart, topical and full of heart...the sun-lounger smash of the summer

TAMMY COHEN
I've read - and loved - ALL of Jane Fallon's books, but Just Got Real is her best yet! The plotting is as ingenious and entertaining as ever but this book has a lot of WARMTH and HEART. It's especially gorgeous on female friendship

MARIAN KEYES
'I loved it. Jane Fallon's Just Got Real is one of those rare novels that brings both a tear to your eye and a chill to your heart. The set-up is glorious - a woman who joins a dating app with a fake photo meets a man whose photo is the only real thing about him. This is the great dating app novel, red in tooth and claw, full of secret lives and lies, the story of what we will do to find love - and how far we will go when that longing is cruelly betrayed. Just Got Real is a story of four vividly-drawn women and one horribly believable man, a novel about friendship and treachery that contains what must be the killer twist of the year. Totally brilliant.'

TONY PARSONS
Your writing makes the world a brighter place, [Jane Fallon]. Just Got Real is an absolute joy

JOANNA CANNON
Y'know when you find a book that you cannot wait to get back to, that you sneak time on your own with or cancel arrangements in order to read? Well this is one of those books. Had me gripped and spellbound. I kept saying to myself 'Just one more chapter'...and then a chapter later 'Okay, just one more'... I found it impossible to put down. Jane Fallon is SO good at human behaviour and what makes us tick. Fabulous characters and a story that just will not let you go! Loved it.

RUTH JONES
Jane is the absolute master of twisty, contemporary storytelling

JENNY COLGAN
Jane just keeps getting better and better. Her books are so smart, funny and warm. I really love her relatable characters, who appear fragile until they become warriors we cheer for

ADELE PARKS
A deliciously compelling story of romance and revenge. Just Got Real is intelligent, funny, and sharply observed. Be prepared to read in one sitting!

LUCY CLARKE
'I finally finished this BELTER of a read from Jane Fallon...It is FABULOUS - with such warmth and humour, and the usual dose of the dish that is best served cold. Just Got Real is the perfect summer read.'

CLAIRE ALLAN
A real page turner. I loved this addictive story about love, loss, revenge and friendship. Readers will be rooting for Joni and her friends, but my most favourite character was Tyson, the furious chihuahua! I love Jane's books and this one was such a treat to read

ALICE FEENEY
Sharply observed, wickedly funny, with real depths of emotion too. Absolutely unputdownable.

MILLY JOHNSON
This escapist gem is loud-snort funny

HEAT
Her snappy, clever fiction . . . seems to slip down like a glass of nicely chilled white wine. Just Got Real - her 12th book - makes no exception . . . Fallon has a nose for distilling the zeitgeist and we are in The Tinder Swindler territory here

Sunday Telegraph
Jane Fallon's wry observation and razor-sharp wit in this unputdownable page-turner will grab you from the first page and the action races along at breakneck speed. Best of all, this is a tale of female friendship

Sunday Express
Jane Fallon's wry observation and razor-sharp wit in this unputdownable page-turner will grab you from the first page and the action races along at breakneck speed. Best of all, this is a tale of female friendship - of three women who have nothing in common except their determination to turn the tables on a deceptive man.

Daily Express
Funny, fresh and clever...the perfect poolside read

CLARE MACKINTOSH
Witty, funny, beautifully written and dotted with life's truths like sprinkles on a birthday cake

CATHY KELLY
I'm a huge fan of this author's gripping, sharp and brilliantly twisty books, and I'm delighted to report that this latest is just as deliciously readable as the rest . . . A rollercoaster of revenge. I loved it

Daily Mail
A smart and funny look at the pitfalls of online dating. It provides laugh-out-loud moments . . . I've read all Jane Fallon's books!

ADELE PARKS, SUN
Another brilliant tale from best-selling author Jane Fallon

Hello!
Brilliant

Bella
A brilliantly spiky read. Loved it

Sam Baker, author of <i>The Shift</i>
We drop everything for a Jane Fallon novel and this is one of her best

Closer
I whipped through Just Got Real by Jane Fallon in a single sunlounger session and howled with laughter . . . A tautly plotted story of betrayal and revenge, it's threaded with authentic characters and heartwarming friendship

Clare Macintosh, Good Housekeeping