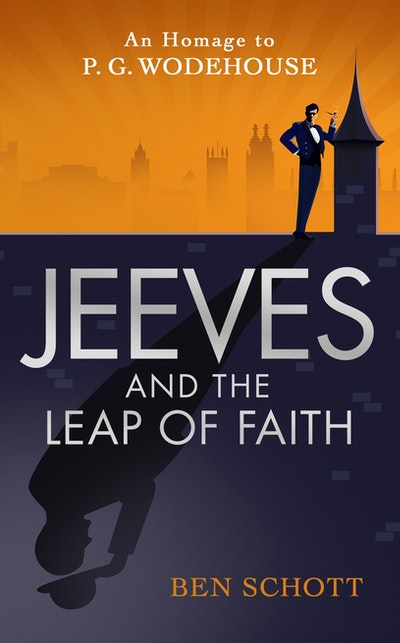 Published:

1 December 2020

ISBN:

9781786331946

Imprint:

Hutchinson

Format:

Trade Paperback

Pages:

352

RRP:

$32.99
Jeeves and the Leap of Faith
---
---
---
The eagerly anticipated sequel to Ben Schott's critically acclaimed homage to PG Wodehouse, Jeeves & The King of Clubs.
_________________
'This homage to P.G. Wodehouse is so good ... a masterpiece in every sense' Mail
The Drones club's in peril. Gussie's in love. Spode's on the warpath. Oh, and His Majesty's Government needs a favour. I say - it's a good thing Bertie's back!
One man - and his Gentleman's Personal Gentleman - valiantly set out to save the Drones, thwart Spode and nobly assist His Majesty's Government.
From the mean streets of Mayfair to the scheming spires of Cambridge we encounter a joyous cast of characters: chiselling painters and criminal bookies, eccentric philosophers and dodgy clairvoyantes, appalling poets and pocket dictators, vexatious aunts and their vicious hounds.
Replete with a Times crossword, and classic Schottian endnotes, you hold in your hands the most blissfully entertaining means to while away an idle hour or two.
P.G. Wodehouse has long been a panacea for the woes of the world... have we ever needed a new Jeeves and Wooster more?
_________________
'Peerless in its wit, elegance and silliness.' Evening Standard BOOKS OF THE YEAR on Jeeves and the King of Clubs
'A tonic for these testing times' Eithne Farry, Sunday Express
Published:

1 December 2020

ISBN:

9781786331946

Imprint:

Hutchinson

Format:

Trade Paperback

Pages:

352

RRP:

$32.99
Praise for Jeeves and the Leap of Faith
This homage to P.G. Wodehouse is so good that a blind reading (i.e. a genuine 'Plum' versus Schott's pastiche) would be a tricky call. Everything is in its place: Jeeves shimmers, aunts scheme, Drones drone. Even the style is spot-on: the erudition of Schott's various Miscellanies finds expression as similes and quotations of hilarious ingenuity . . . the sheer luxury, wealth and self-assurance of Bertie's world is brilliantly evoked with all its enviable light-heartedness intact. A masterpiece in every sense.

Daily Mail
[Schott] captures the style of the Master very well indeed. He follows Jeeves And The King of Clubs with a glorious romp . . . a splendidly jolly read.

Daily Express
Captures PG Wodehouse's style very well.

Daily Mirror
A combination of the old and new, done with panache and wit . . . Schott's new novel is a hugely welcome one, and deserves to soar up the Christmas bestseller lists.

Alexander Larman, The Critic
Ben Schott's second Jeeves and Wooster book proves an enjoyable continuation of PG Wodehouse's classic characters. Schott writes in a distinctive style that is somewhere between homage and postmodern response, and his story . . . is more eventful and action-packed than Wodehouse would ever have countenanced. And it ends on a splendid cliff hanger.

Observer
Once again pastiche perfect.

Ian Sansom's book of the year, Times Literary Supplement
In times of stress, there's nothing like an outing with Bertram Wilberforce Wooster. A very creditable and uplifting homage to the master.

Saga Magazine