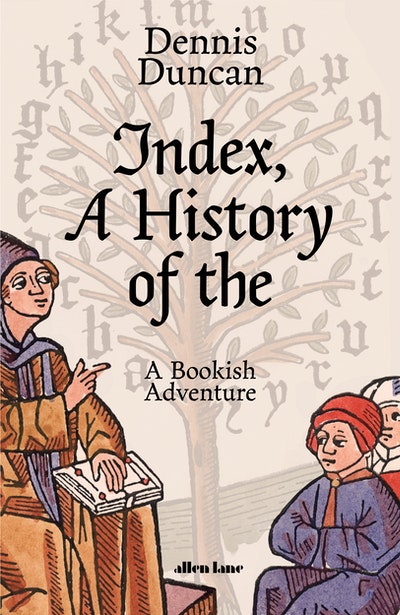 Published:

5 January 2022

ISBN:

9780241374238

Imprint:

Allen Lane

Format:

Hardback

Pages:

352

RRP:

$45.00
Index, A History of the
---
---
---
A story of ambition, obsession and alphabetical order
Most of us give little thought to the back of the book - it's just where you go to look things up. But here, hiding in plain sight, is an unlikely realm of ambition and obsession, sparring and politicking, pleasure and play. Here we might find Butchers, to be avoided, or Cows that sh-te Fire, or even catch Calvin in his chamberwithaNonne. This is the secret world of the index: an unsung but extraordinary everyday tool, with an illustrious but little-known past. Here, for the first time, its story is told.
Charting its curious path from the monasteries and universities of thirteenth-century Europe to Silicon Valley in the twenty-first, Dennis Duncan reveals how the index has saved heretics from the stake, kept politicians from high office and made us all into the readers we are today. We follow it through German print shops and Enlightenment coffee houses, novelists' living rooms and university laboratories, encountering emperors and popes, philosophers and prime ministers, poets, librarians and - of course - indexers along the way. Revealing its vast role in our evolving literary and intellectual culture, Duncan shows that, for all our anxieties about the Age of Search, we are all index-rakersat heart, and we have been for eight hundred years.
Published:

5 January 2022

ISBN:

9780241374238

Imprint:

Allen Lane

Format:

Hardback

Pages:

352

RRP:

$45.00
Praise for Index, A History of the
What a surprise to discover that the plain and humble index has such an intricate and rollicking history! Dennis Duncan gives us a learned grand tour from ancient times to the almost present in the design and uses - and cunning abuses - of what is still the most sophisticated search tool ever devised. Instruction, passim! Entertainment, idem!

David Bellos, author of Is That a Fish in Your Ear?
Dennis Duncan has done a great service to all bibliophiles by writing this scholarly, witty and affectionate history. By rights "Books, love of" ought to have a page-long entry in the index.

Lynne Truss, author of Eats, Shoots and Leaves
Entrancing ... Seldom is a short book so wide-ranging or so original in its subject. Every page has things I didn't know, or hardly realised I knew from a lifetime of looking things up. I want to stop people at random and tell them new facts I've found out. Master the use of the index and you have access to all knowledge.

Christopher de Hamel, author of Meetings with Remarkable Manuscripts
Illuminating ... A seemingly niche and esoteric subject, the index becomes, in Duncan's hands, a minor miracle. Index, A History of the is not only about books, printing, and the necessity of consistent page-numbering ... but about the nature of reading and about how we understand, categorise, and engage with the world

Kate Wiles, History Today
Fascinating

Financial Times
Masterful

Prospect
Packed with easy wit and erudition ... Dennis Duncan gives us not only a history of the index, but an essay on human folly ... Some indexes, says Duncan, are miniature narratives, while others are literary performances, and he provides glorious examples of both. Indexes can also be a form of mockery or satire, and they make excellent objects of disdain ... A terrifically rewarding and timely book

The Oldie
Exceptionally good ... I learned a huge amount from this wry, clever, diverting book

Scotsman
Charming ... Indexes are to books as menus are to meals: often the best bit

Economist
Witty and wide-ranging...adventurous... as if academic research were as revved-up as a Formula One race

Peter Conrad, Observer
Hilarious

Sam Leith, UnHerd
I loved this book - the story of the index turns out to be a true adventure

Susie Dent (on Twitter)