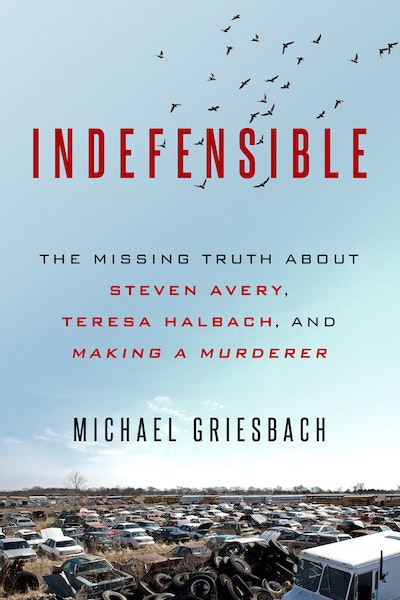 Published:

15 April 2017

ISBN:

9780786041145

Imprint:

Kensington

Format:

Paperback

Pages:

304

RRP:

$13.99
Indefensible
---
---
Shocking facts missing from the hit Netflix series Making a Murderer.
In 1985, Steven Avery went to prison for the brutal sexual assault of a female jogger on the shores of Lake Michigan. Eighteen years later, DNA evidence proved his innocence. But in 2005 Avery was arrested again—this time for the murder of Teresa Halbach, a young freelance photographer.
Proof that Steven Avery was rightfully convicted of murder.
Prosecutor Michael Griesbach played a central role in overturning Avery's initial conviction. But he believes Avery is guilty of Teresa Halbach's murder. He also believes the producers of Making a Murderer have clouded the truth about the explosive case. With meticulous care, Griesbach reviews the evidence to set the record straight at last.
"In searing, bare-bones prose, Griesbach confirms Avery's guilt. Read this book for clear, concise, unimpeachable evidence that Steven Avery is a monster." —M. William Phelps
"A riveting, powerful take on the story that had all of America talking. Highly recommended." —Gregg Olsen
"A masterpiece of truth-seeking; a page-turning re-examination of the facts; a must-read real-life legal thriller." —Robert K. Tanenbaum
With 16 pages of dramatic photos
Published:

15 April 2017

ISBN:

9780786041145

Imprint:

Kensington

Format:

Paperback

Pages:

304

RRP:

$13.99
The Experts Praise INDEFENSIBLE "In INDEFENSIBLE author Michael Griesbach renders a veteran prosecutor's meticulous examination of the controversial Steven Avery murder case in this masterpiece of truth-seeking. The case received widespread media attention through the Netflix series Making a Murderer.  However, veteran prosecutor Griesbach sets the record straight about the brutal murder of Teresa Halbach with a page-turning re-examination of the facts that gives his argument convincing power.  This book will help you see the majesty of the American legal system, while you wonder at the misconceptions and fallacies that plague it.   INDEFENSIBLE is a must-read real-life legal thriller." —Robert K. Tanenbaum, New York Times Bestselling Author and Former Prosecutor "Michael Griesbach's INDEFENSIBLE takes on one of the most high-profile cases of our time: the 'Making a Murderer' docudrama. In searing, bare-bones prose, Griesbach, a longtime Wisconsin prosecutor and active member of the advisory board of the Wisconsin Innocence Project, cuts through the rhetoric and prejudiced presentation of the 'documentary' and sets the record straight. The author confirms, beyond any question whatsoever, Steve Avery's guilt, refuting the biased account of so-called 'evidence' the docudrama has, using mimicry and slight-of-the-hand editing, carefully and disingenuously spoon-fed viewers. … Read this book for clear, concise, unimpeachable evidence that Steven Avery is a monster of the most despicable caliber. Trust me, you won't be signing any petitions to get this psychopath out of prison once you've closed the book!" —M. William Phelps, New York Times Bestselling Author & Investigative Journalist "A riveting, powerful take on the story that had all of America talking. In Indefensible, Michael Griesbach sifts the truth from the convoluted and very messy Steven Avery case. More importantly, Griesbach reminds us that Teresa Haibach is no mere footnote to her own murder. Highly recommended." —Gregg Olsen, New York Times Bestselling True-Crime and Thriller Author