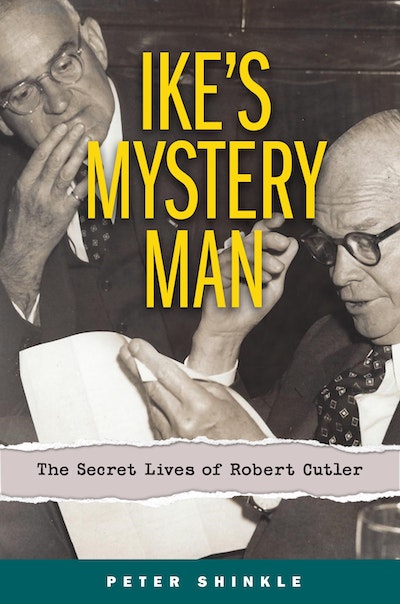 Published:

15 December 2018

ISBN:

9781586422431

Imprint:

Steerforth Press

Format:

Hardback

Pages:

416

RRP:

$49.99
Ike's Mystery Man
The Secret Lives of Robert Cutler
---
---
---
This page-turning Cold War narrative takes readers from top-secret Cabinet Room meetings to exclusive social clubs, and into the pages of a powerful man's intimate diary. Ike's Mystery Man brings a new dimension to our understanding of the inner-workings of the Eisenhower White House. It also shines a bright light on the indispensable contributions and sacrifices made by patriotic gay Americans in an era when Executive Order 10450 banned anyone suspected of "sexual perversion", i.e. homosexuality, from any government job, and gays in the government were persecuted by the likes of Joseph McCarthy and Roy Cohn in the Senate, and J. Edgar Hoover and Clyde Tolson at the FBI.
The Cold War, The Lavender Scare, and the Untold Story of Eisenhower's First National Security Advisor.
President Eisenhower's National Security Advisor Robert "Bobby" Cutler -- working alongside Ike and also the Dulles brothers at the CIA and State Department -- shaped US Cold War strategy in far more consequential ways than previously understood. A lifelong Republican, Cutler also served three Democratic presidents. A charming raconteur, he was a tight-lipped loyalist who worked behind the scenes to get things done.
Cutler was in love with a man half his age, naval intelligence officer and NSC staffer Skip Koons. Cutler poured his emotions into a six-volume diary and dozens of letters that have been hidden from history. Steve Benedict, who was White House security officer, Cutlers' friend and Koons' friend and former lover, preserved Cutler's papers. All three men served Eisenhower at a time when anyone suspected of "sexual perversion", i.e. homosexuality, was banned from federal employment and vulnerable to security sweeps by the FBI.
This gripping account reveals in fascinating detail Cutler's intimate thoughts and feelings about US efforts to confront Soviet expansion and aggression while having to contend with the reality that tens of millions of people would die in a first nuclear strike, and that a full nuclear exchange would likely lead to human extinction. And Shinkle recounts with sensitivity the daily challenges and personal dramas of a small but representative group or patriotic gay men who were forced to hide essential aspects of who they were in order to serve a president they admired and a country they loved.
Published:

15 December 2018

ISBN:

9781586422431

Imprint:

Steerforth Press

Format:

Hardback

Pages:

416

RRP:

$49.99