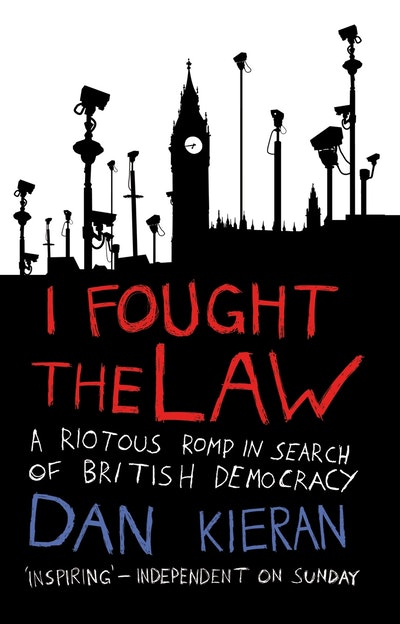 Published:

1 August 2008

ISBN:

9780553817706

Imprint:

Bantam

Format:

Paperback

Pages:

336

RRP:

$32.99
I Fought The Law
---
---
A unique and often hilarious travel memoir covering Dan Kieran's satirical 'crime spree' around the UK as he uncovers fascinating and disturbing truths about the state of post-Blair Britain.
Originally intended to be a simple Christmas humour book, I Fought The Law ended up becoming something rather different. The premise was simple enough. Dan was going to spend a year trying to break as many stupid old laws as he could find, for your amusement. You see there are loads of ridiculous laws on the statute book...
It is still illegal to beat a carpet in the Metropolitan Police District, to take possession of a beached whale or to get within a hundred yards of the Queen without wearing socks. The list goes on and on. But in the process of researching these silly old laws Dan found a glut of stupid legislation that was equally ridiculous, but these laws had one thing in common - they'd all been passed by our current Government. And when he met a man who has a criminal record for eating a cake that had 'Freedom of Speech' written on it in icing in Parliament Square the idea of breaking the Adulteration of Tea Act of 1776 started to seem a little frivolous.
Lifting up this legal concrete slab in the garden of England, however, caused all sorts of creepy crawlies to emerge that began to cast doubt on the health of the nation, so Dan's adventure began to change tack. His journey ended up taking him all across the country where he found some unlikely heroes fighting back. Meet...
* Dorothy, who spent days living on the roof of a bus station in Derby
* a group of pensioners, who were forced to let off stink bombs in a court of law
* the man who dresses like Chaplin's tramp and keeps getting arrested outside Downing Street
* one woman who got an ASBO for being naked in her own home - and a Tourette's sufferer who was given an ASBO for swearing.
So, whether it's fighting to protect our environment, our freedom, or the right to live in an unconventional way, I Fought the Law is an unashamedly patriotic call to arms to all those for whom enough is enough.
Published:

1 August 2008

ISBN:

9780553817706

Imprint:

Bantam

Format:

Paperback

Pages:

336

RRP:

$32.99
Praise for I Fought The Law
From cake-eating protests to roof-clambering OAPs, this book uncovers the UK's weirdest oddball laws - and the even odder folk who rally against them.

MAXIM - June 2007
Inspiring

Independent on Sunday
Should be on the top of [Tony Blair's] reading list

The Times
Absolutely fantastic! Everyone in Britain should be made to read it!

Carol McGiffin, LBC Radio