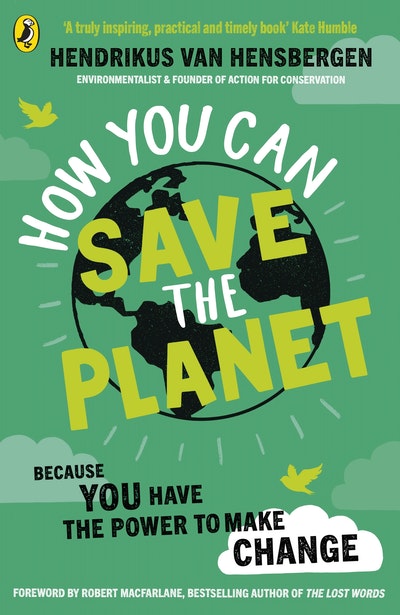 Published:

1 June 2021

ISBN:

9780241453049

Imprint:

Puffin

Format:

Paperback

Pages:

240

RRP:

$16.99
How You Can Save the Planet
---
---
YOU have the power to change the world!
*Foreword by Robert Macfarlane bestselling author of The Lost Words*
Climate breakdown, species extinction, environmental disasters - we know the planet is heating up and running out of time; but what can we do about it?
Lots of things actually like:
· Building a green wall
· Making recycled bird feeders
· Rewilding
· Writing letters to politicians
· Organising cycling groups at school
· And so much more!
This book will break down exactly what you need to do to make a difference.
With easy step-by-step actions and inspiring stories of other children who stood up and said 'no more', this is the definitive guide to creating a better world wherever you live.
Published:

1 June 2021

ISBN:

9780241453049

Imprint:

Puffin

Format:

Paperback

Pages:

240

RRP:

$16.99
Praise for How You Can Save the Planet
What's so clever about this book is that it manages to combine being practical and informative with great story telling. It's enlightening, inspiring and empowering - a book for anyone of any age. I'm going to give it to everyone I know!

Kate Humble, TV presenter
What's so clever about this book is that it manages to combine being practical and informative with great story telling. It's enlightening, inspiring and empowering - a book for anyone of any age. I'm going to give it to everyone I know!

Kate Humble, TV presenter
A wonderfully informative, fun and practical book that highlights the most important fact - That small individual acts of kindness towards our planet, will make a great difference. A great source of inspiration

Harry and David Rich, TV presenters
A wonderfully informative, fun and practical book that highlights the most important fact - That small individual acts of kindness towards our planet, will make a great difference. A great source of inspiration

Harry and David Rich, TV presenters
This wonderful book is a mixture of a manifesto and an operations manual for how to make Natural History. Every young person in the country should be given this book: it is life affirming and brilliantly practical. It is a roadmap for protecting the fragile planet on which we live

Sir Tim Smit, Founder of the Eden Project
This wonderful book is a mixture of a manifesto and an operations manual for how to make Natural History. Every young person in the country should be given this book: it is life affirming and brilliantly practical. It is a roadmap for protecting the fragile planet on which we live

Sir Tim Smit, Founder of the Eden Project
Without action, hope is fantasy. But mix the right amount of hope with action, then double both, and you can change the world. Hendrikus van Hensbergen shows us how to do it, starting now, in his fine new book

Richard Louv, author of Last Child in the Woods and Vitamin N
Without action, hope is fantasy. But mix the right amount of hope with action, then double both, and you can change the world. Hendrikus van Hensbergen shows us how to do it, starting now, in his fine new book

Richard Louv, author of Last Child in the Woods and Vitamin N
A really informative book for young people about how to become an environmental activist, with lots of fun ways to take practical action. I totally agree with the message: We all have the power to make a difference and help the planet!

Mya-Rose Craig (Birdgirl), environmental and climate activist
A really informative book for young people about how to become an environmental activist, with lots of fun ways to take practical action. I totally agree with the message: We all have the power to make a difference and help the planet!

Mya-Rose Craig (Birdgirl), environmental and climate activist
An excellent down-to-earth handbook for teens and pre-teens

Patrick Barkham, Guardian
An excellent down-to-earth handbook for teens and pre-teens

Patrick Barkham, Guardian
Straight talking advice on how to identify goals and realise them

Claire Allfree, Evening Standard
Straight talking advice on how to identify goals and realise them

Claire Allfree, Evening Standard
A treasure trove of practical advice and inspiration

Sue Stuart-Smith, author of The Well Gardened Mind
A treasure trove of practical advice and inspiration

Sue Stuart-Smith, author of The Well Gardened Mind