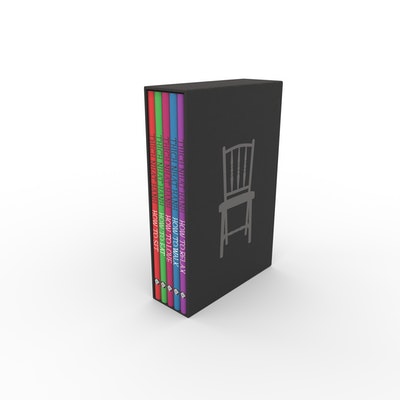 Published:

15 December 2016

ISBN:

9781941529478

Imprint:

Parallax

Format:

Hardback

RRP:

$85.00
How To Live
---
---
The five bestselling handbooks of Thich Nhat Hanh's Mindfulness Essentials Series, How to Sit, How to Eat, How to Walk, How to Love, and How to Relax, are collected together for the first time in a beautifully designed gift box. The box contains all five titles in their original trade paperback editions, each printed with a different highlight color.
The Mindfulness Essentials Series by Zen Master Thich Nhat Hanh will introduce beginners and remind seasoned practitioners of the essentials of mindfulness practice. The five books are pocket-sized with bold drawings by California artist Jason DeAntonis, each in a different highlight color. When the spines are lined up in this handsome gift box, the presentation is striking. The books provide explicit, simple directions for carrying out everyday activities with the focused awareness of mindful attention.
Every title in the series has appeared on each of the regional independent bestseller lists, and individual titles have appeared on The New York Times extended list, the NPR bestseller list, and others. The popular blog Brain Pickings has featured How to Love on its landing page for months, among Maria Popova's "favorite reads." She writes, "In accordance with the general praxis of Buddhist teachings, Nhat Hanh delivers distilled infusions of clarity, using elementary language and metaphor to address the most elemental concerns of the soul."
Published:

15 December 2016

ISBN:

9781941529478

Imprint:

Parallax

Format:

Hardback

RRP:

$85.00
The Mindfulness Essentials have appeared on each of the Regional Independent Bookstore Trade Association bestseller lists in 2015: GLIBA Great Lakes MIBA Midwest MPIBA Mountains and Plains NAIBA New Atlantic NCIBA Northern California NEIBA New England PNBA Pacific Northwest SCIBA Southern California SIBA the South as well as the NPR Bestseller list, the San Francisco Chronicle Bestseller list, the Boston Globe Bestseller list, the LA Times Bestseller List and the extended New York Times Bestseller List. They've been featured in Brain Pickings and the Utne Reader.com among many other websites.