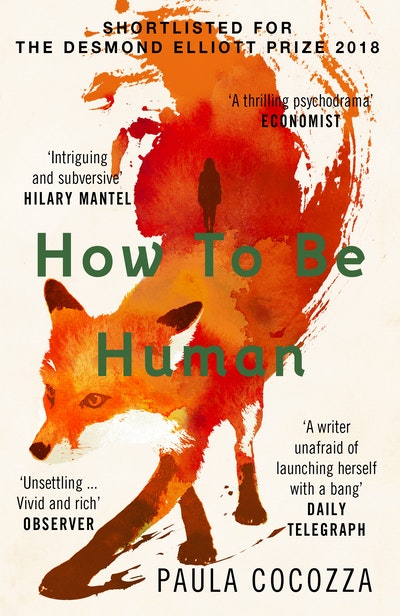 Published:

15 March 2018

ISBN:

9780099510772

Imprint:

Windmill Books

Format:

Paperback

Pages:

320

RRP:

$19.99
How to Be Human
Shortlisted for the Desmond Elliott Prize 2018
---
---
A disturbing look at obsession, delusion and the way boundaries between the domestic and the wild can blur, HOW TO BE HUMAN marks the arrival of an incredible new voice.
SHORTLISTED FOR THE DESMOND ELLIOTT PRIZE 2018
'In evocative and elegant prose Cocozza delves deep into the psyche of a strange and troubled woman. The reader is invited to share in her intense connection to a fox and will admire the author's mordantly witty dissection of contemporary manners.' -Sarah Perry, chair of Judges for Desmond Elliott Prize
You've seen a fox.
Come face to face in an unexpected place, or at an unexpected moment.
And he has looked at you, as you have looked at him. As if he has something to tell you, or you have something to tell him.
But what if it didn't stop there?
When Mary arrives home from work one day to find a magnificent fox on her lawn - his ears spiked in attention and every hair bristling with his power to surprise - it is only the beginning. He brings gifts (at least, Mary imagines they are gifts), and gradually makes himself at home.
And as he listens to Mary, Mary listens back.
She begins to hear herself for the first time in years. Her bullish ex-boyfriend, still lurking on the fringes of her life, would be appalled. So would the neighbours with a new baby. They only like wildlife that fits with the decor. But inside Mary a wildness is growing that will not be tamed.
In this extraordinary debut, the lines between sanity and safety, obsession and delusion blur, in a thrilling exploration of what makes us human.
__________________________________
'An intriguing and subversive debut, charged with the power of the ignored and the suppressed.' HILARY MANTEL
'Enchanting . . . restrained . . . startling.' TLS
'A thrilling psychodrama . . . She brilliantly captures a sense of Hitchcockian, curtain-twitching intensity.' Economist
'Sharp, thoughtful . . . exhilarating . . . the plot slips from urban pastoral to tense thriller.' Newsweek
'Cocozza has a wonderful eye for detail, and her descriptions of the natural world are uncanny.' Guardian
'The tricky, shifting substance of relationships is so insightfully drawn and constantly surprises.' Laura Barnett, author of The Versions of Us
'Taut, shimmering.' Richard Beard, author of The Acts of the Assassins
Published:

15 March 2018

ISBN:

9780099510772

Imprint:

Windmill Books

Format:

Paperback

Pages:

320

RRP:

$19.99
Praise for How to Be Human
[A] poignant and playful meditation on loss, love and loneliness. How To Be Human vibrates with originality, poetry and guts and I loved every strange, yet beautiful, page

Ali Land, author of Good Me Bad Me
How to Be Human is an intriguing and subversive debut, an eerie tale that acts on the reader like a ghost story, charged with the power of the ignored and the suppressed. If we disdain our animal selves, they trail us, shadowing us at dawn and dusk. Paula Cocozza shows us that the line between the wilderness and the city is thin, easily transgressed; the ghost breathing in the thicket is our own wild nature.

Hilary Mantel
There is much of [Ali] Smith's playfulness in Paula Cocozza's enchanting debut . . . For all its suggestiveness and sensuality, [her] narrative is artfully restrained . . . In this startling debut, [she] seems to be saying that, no matter how lonely the city becomes, through an open window a mass of life is listening back.

Times Literary Supplement
[An] impressive debut

Irish Times, International Fiction Book of the Year
Cocozza has a wonderful eye for detail, and her descriptions of the natural world are uncanny . . . She takes a big risk in narrating some sections from the point of view of the fox, and pulls it off with aplomb.

Guardian
Unsettling, the writing often vivid and rich.

Observer
Hypnotic . . . suspenseful . . . wonderfully sly and assured . . . Readers may come to realize they are on thrillingly unstable ground.

New York Times Book Review
Intriguing and unsettling . . . the tricky, shifting substance of relationships is so insightfully drawn and constantly surprises.

Laura Barnett, author of THE VERSIONS OF US
A thrilling psychodrama . . . She brilliantly captures a sense of Hitchcockian, curtain-twitching intensity . . . Like the scent of a fox, truth and fact in How to Be Human start to evaporate. What is left behind is a pervasive sense that beneath the veneer of civility, something wilder is always lurking.

Economist
Sharp, thoughtful . . . exhilarating . . . the plot slips from urban pastoral to tense thriller.

Newsweek
Cocozza's brilliant debut novel [is] a beguiling, highly inventive story about loneliness and finding a place in the world . . . A disturbing humour underpins Mary's voice, a mesmerising mix of delusion and discernment . . . The momentum is achieved through Cocozza's edgy, atmospheric writing.

Irish Times
Paula Cocozza's intense, fox-like powers of observation allow her to stalk the claims of territory and hidden wildness that energise this taut, shimmering novel.

Richard Beard, author of THE ACTS OF THE ASSASSINS
Eerie, original and subversive, How to be Human is a fascinating yet disturbing look at obsession, delusion and loneliness . . A thrilling exploration of what makes us human.

i
A writer who is clearly unafraid of launching herself with a bang . . . Compelling . . . We are reminded of how close to the surface primal instincts can prowl.

Telegraph
Nicely balanced between the serious and the lighter-hearted, Cocozza's novel is an engaging read.

Sunday Times
In turn devastating, heart-warming and absurd, How to Be Human is an astonishing debut . . . At its core, it is a powerful and tender portrait of madness, loss and love.

i
Cocozza builds up equal measures of dread, danger and derangement as Mary brilliantly but bizarrely redefines what her future might look like.

Eithne Farry, Sunday Express
A singular love story of dominance and betrayal, this novel sets the tone for what will hopefully be a long and strange literary career.

Kirkus Reviews
This brilliantly eerie novel is a powerful meditation on the blurred lines between sanity and delusion, the wild and so-called civilisation.

The Lady
An atmospheric tale about safety, sanity and the complexity of relationships.

Big Issue in the North
This dream-like debut from Cocozza paints a cleverly observed picture of wildness and loneliness, blurring the lines between human nature, normality and delusion.

Journey Magazine