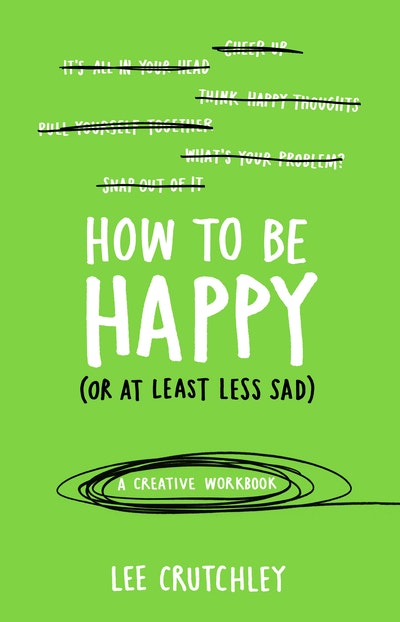 Published:

3 August 2015

ISBN:

9781785031588

Imprint:

Ebury Press

Format:

Trade Paperback

Pages:

160

RRP:

$19.99
How to Be Happy (or at least less sad)
A Creative Workbook
---
---
An engaging, creative, interactive workbook to help combat stress, anxiety and depression
HOW TO BE HAPPY (OR AT LEAST LESS SAD) is a workbook offering a place of solace, distraction, and a fresh perspective on life. This book will not fix you and it will not make you happy, but it promises to help you rediscover the simple pleasures in life and, ultimately, make you feel that little less sad.
"This book made me nervous when I first scanned through it because I knew it would work! This isn't a self-help book; it's more of a blue-collar, get-down-to business friend with calloused hands who is ready to boogie when you are. This book is about action. But also acknowledgement. There are no platitudes and its author is no Pollyanna. It's an explicit map that leads to a place where you're going to feel measurably better, and better equipped to face life's vicissitudes." - Rob Delaney, Comedian
Published:

3 August 2015

ISBN:

9781785031588

Imprint:

Ebury Press

Format:

Trade Paperback

Pages:

160

RRP:

$19.99
Praise for How to Be Happy (or at least less sad)
This book does the work that I believe is most worthwhile – it does not hand you answers, it sets you up to find them yourself. One of the most accessible, relatable, unique and flawlessly crafted books that I have ever seen. A must have, a must read, a must do.

Brianna Wiest, author of The Human Element
Taking the small incremental steps toward conquering depression takes courage, and even then, it helps to have any compassionate guidance you can find. How To Be Happy (Or At Least Less Sad) comes from a knowing, forgiving place. Its intentions are sincere. When I first read it I thought: I could have used a book like this.And then I thought: I still can use a book like this.

Jason Porter, author of Why Are You So Sad?
How To Be Happy (Or At Least Less Sad) is the kind of friend I want around when I'm feeling sad. He lets me vent without judging me, gives me a little guidance, reminds me that I'm not alone, and lets me draw all over him with coloured pencils.

Lisa Currie, author of The Scribble Diary and Me, You, Us
Whether you are just having a random sad day, or your bad days come a little bit more frequently than that, this book will help you shine a new light on your life. Filled with thoughtful, simple and heart-opening exercises, this book will give you a new lens that will help you get through the rough patches, week-by-week, day-by-day or minute-by-minute if that's all you can handle.

Bernadette Noll, author of Slow Family Living
A breath of fresh air...This is a wonderful tool for anyone struggling with depression—or even just feeling blah.

Publishers Weekly