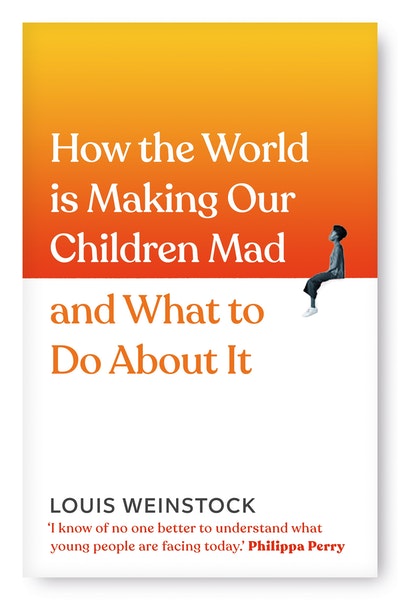 Published:

20 September 2022

ISBN:

9781785043796

Imprint:

Vermilion

Format:

Hardback

Pages:

320

RRP:

$35.00
How the World is Making Our Children Mad and What to Do About It
---
---
Note on a Nervous Planet for parenting by a renowned child psychotherapist who helped Philippa Perry write her book.
I know of no one better qualified to understand what young people are facing today - Philippa Perry
Louis cares deeply about children and the world they are growing up in. In this book, he provides a brilliant, nurturing, much needed voice to children and anyone who cares about children - Jessie Ware
In this book, rich in edifying insight and illuminating case examples, Louis Weinstock confronts us with uncomfortable truths - the better to guide towards creating a world that is comfortable for our children and supports their healthy development - Gabor Maté
How can we raise children in a world that appears to have gone so wrong?
We all want our children to grow up in a world where they feel safe, and where people are kind to each other and the planet. But when we hear about climate change, a mental health crisis, war, it's hard not to worry about the future and how they will cope.
Drawing on over 20 years of helping children and families, psychotherapist Louis Weinstock is here to help. Combining case studies, playful meditations and simple exercises with life-changing insights from history, science, psychology and anthropology, this is a parenting book like no other.
Whether your child is struggling with mental health issues already, or you want to build their capacity to handle change and uncertainty, this book is a safe place to catch your breath and develop the skills to help your child through life's challenges.
You will discover ways to find peace in the middle of chaos, bring deeper levels of love and healing to the troubled parts of your child (and yourself) and find hope when things feel hopeless.
Most importantly, you will see that inside of you there is strength, wisdom and beauty, and no matter what is going on in this mad world, you can guide your child towards a more beautiful tomorrow.
Published:

20 September 2022

ISBN:

9781785043796

Imprint:

Vermilion

Format:

Hardback

Pages:

320

RRP:

$35.00
Praise for How the World is Making Our Children Mad and What to Do About It
In this book, rich in edifying insight and illuminating case examples, Louis Weinstock confronts us with uncomfortable truths and guides us towards creating a world that is comfortable for our children and supports their healthy development.

Gabor Maté
I know of no one better qualified to understand what young people are facing today

Philippa Perry
Louis cares deeply about children and the world they are growing up in. In this book, he provides a brilliant, nurturing, much needed voice to children and anyone who cares about children

Jessie Ware
Passionate about empowering children, young people and families to reclaim their attention, Louis is delivering a message of hope for the future without shying away from the very real existential challenges of today

David Lammy
A powerful and transformational guidebook, for this generation and the next ... showing each of us the way to a calmer mind and a more peaceful world

Andy Puddicombe
This is a book everyone needs to read. Whether we have children or not, we all grew up in this toxic soup and we're all carrying the scars. With integrity, authenticity and compassion, Louis shows that all of us can heal, and must, if we are to usher in a world we'd be proud to leave to our children.

Manda Scott