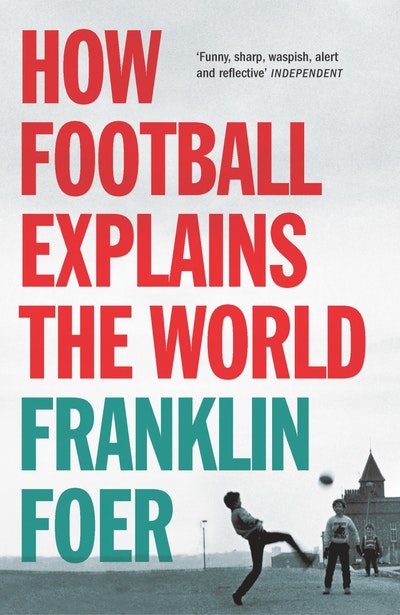 Published:

31 December 2011

ISBN:

9781448108008

Imprint:

Cornerstone Digital

Format:

EBook

Pages:

272
How Football Explains The World
---
---
An original and insightful investigation of the role of football in today's world - around the world. Serious football writing at its best, in the tradition of Simon Kuper's Football Against The Enemy.
What in the world has the power to liberate women in Iran while provoking antagonism between Catholics and Protestants in Scotland, to lure Nigerians to the cold of the Ukraine while heating up class warfare in the US heartlands, and both profit local gangsters and create local - and international - celebrities?
Foer presents an unexpected, uniquely revealing tour of the politics and culture of football from Milan to Tehran. He examines the game's role in sustaining ancient hatreds and rivalries (Serbia's Red Star and Croatia's Dinamo); in supporting the migration of players and the rise of the football oligarchs (such as Silvio Berlusconi, President of AC Milan - and of Italy); and in defending the virtues and vices of old-fashioned nationalism. As Foer brilliantly illuminates, the Balkan War, anti-Semitism, Jewish identity, racism, social integration, media manipulation, and American patriotism have all been influenced by, as well as have had a dramatic effect on, football.
On his travels, Foer encounters a collection of fans that is stranger than fiction: from a British hooligan with a Jewish mother, a Nazi father and a career as a soldier of fortune, to a fan club in Serbia that turns into a brutal anti-Muslim paramilitary unit. The result is an unforgettable parade of uniquely memorable fans - each set into his - or her - unique political and cultural context.
Published:

31 December 2011

ISBN:

9781448108008

Imprint:

Cornerstone Digital

Format:

EBook

Pages:

272
Praise for How Football Explains The World
'Funny, sharp, waspish, alert and reflective.'

Independent
Significantly entertaining if you like soccer, and entertainingly significant if you do not.

Adam Gopnik
'He engages each city and team with the spirit of a true fan, and he emerges with impressions so vivid they feel like they've been whispered into your ear over a nice pint of lager... This superbly written and elegantly reported book.'

Chicago Tribune
'An excellent reporter... An eccentric, fascinating exposé of a world... The book starts off like a house on fire.'

New York Times