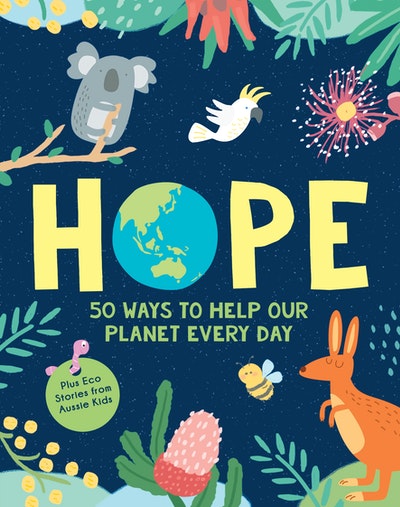 Published:

4 August 2020

ISBN:

9781760896737

Imprint:

Puffin

Format:

Paperback

Pages:

176

RRP:

$14.99
HOPE: 50 Ways to Help Our Planet Every Day
Penguin Random House Australia
---
---
Did you know your food travels an average of 4000 kilometres to get to you? Have you ever wondered where exactly 'away' is when you throw something away? Or what happens to the 3 billion drink cans Australians go through in a year?
Think you can't do anything about climate change? Have HOPE! Having hope means that we can make a change. And the kids of Australia have heaps of HOPE! Open your eyes, take a look around and Help Our Planet Every day. From the city to the country to the coast, we all live in different ways but we share this one world and together we can make it better.
Full of case studies from kids, practical tips and easy activities that can involve your school, family and community, this book provides a simple guide to making a difference. Don't be afraid to start!
Published:

4 August 2020

ISBN:

9781760896737

Imprint:

Puffin

Format:

Paperback

Pages:

176

RRP:

$14.99
Praise for HOPE: 50 Ways to Help Our Planet Every Day
This is an ideal classroom and home resource starting with a pledge to be green, and contains facts and activities to start even the most novice 'greenie' on their climate change journey to reduce, reuse and recycle . . . This small little book can do great things, if we all do our part to help our planet every day.

Shelley Stephens, Reading Time
Article
Easy activities for kids at home
Keep the kids entertained with these fun book-related ideas. There's an activity book for every age: one for littlies, one for kids and one for grown-ups too!
Article