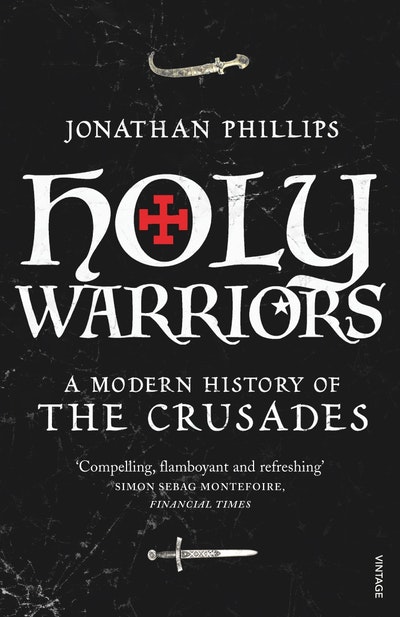 Published:

1 November 2010

ISBN:

9781845950781

Imprint:

Vintage

Format:

Paperback

Pages:

448

RRP:

$27.99
Holy Warriors
A Modern History of the Crusades
---
---
A vivid and original history of the Crusades - from the middle ages to the present day.
* When George Bush inaugurated the War on Terror in 2001, he referred to it as a crusade. A medieval Crusade could be defined thus: a holy war initiated by the Pope on God's behalf in which the participants took the cross and received remission for their sins. The First Crusade, launched in 1095, ushered in a period of almost 200 years of Christian rule in the Levant, yet over time crusades were directed against a variety of opponents, not just Muslims in the Middle East: against Cathar heretics, political enemies of the papacy, the Mongols, pagan tribes of northern Europe, and the Ottoman Turks, well into the sixteenth century.
* While the notion of fighting for one's faith fell into disrepute during the Enlightenment, whose proponents viewed the idea as primitive and barbaric, in reality the cultural engines of romanticism and orientalism gave the memory of the crusades a significant boost in the nineteenth century. The notion of moral right buttressed by royal authority helped to drive the expansion of European power through imperialism and colonialism, and in both World Wars the theme of crusading was used as a call to arms.
* As Jonathan Phillips demonstrates in this timely and revealing study, crusading has proven to be a remarkably adaptable and long-lasting phenomenon, embedded in the actions and consciousness of the West for centuries.
Published:

1 November 2010

ISBN:

9781845950781

Imprint:

Vintage

Format:

Paperback

Pages:

448

RRP:

$27.99
Holy Warriors is not only very readable. Its skilful and detailed use of source material serves as a showcase of what is being done in this, the most intensively studied area of medieval historiography

Robert Irwin, Literary Review
Elegant storytelling... Phillips delivers an excellent, compelling, flamboyant and refreshing history of the crusades and wonderful character sketches

Simon Sebag Montefiore, Financial Times
Totally absorbing and magnificent history

Mail on Sunday, Boris Johnson
[An] engaging and sprightly book... Each chapter is telegenic, tele-visual even. We get vivid re-creations of places, personalities and events

CJ Tyerman, Times Literary Supplement
He [Phillips] has a real gift for highlighting the picturesque and for bringing the past alive." "With its crisp management, accessible style and deft characterisation, this book stakes a strong claim to be the most appealing narrative account of the Crusades for a general audience.

BBC History Magazine
With a dramatist's panache, Jonathan Phillips brings the leading characters and most suspenseful episodes of the Crusades to riveting life, even rendering figures such as Richard the Lionheart and Saladin fresh again...the violence, insanity, courage and belief here make for irresistible reading

Benjamin Evans, Sunday Telegraph
Concise, character-driven and draws modern parallels

Telegraph