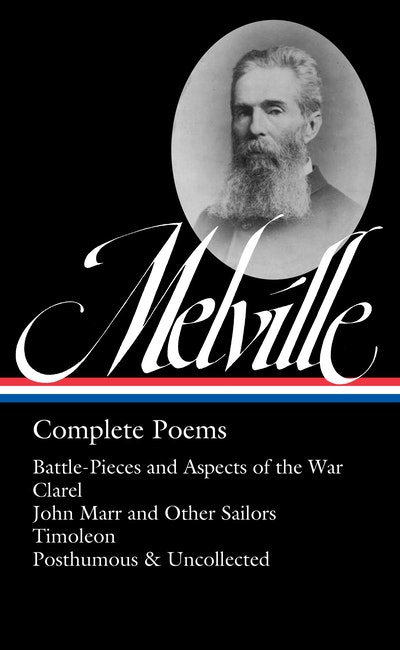 Published:

16 July 2019

ISBN:

9781598536188

Imprint:

Library of America

Format:

Hardback

Pages:

1200

RRP:

$75.00
Herman Melville
Complete Poems (LOA #320)
---
---
---
An unprecedented single-volume edition of one of America's greatest poets, released to celebrate his bicentennial.
Best known today for his novels and stories, the author of Moby-Dick was a devoted and accomplished poet. Ranging from Civil War battlefields to the haunted byways of the Holy Land, from close observation of nature to deep philosophical mediation, Melville's poetry was central to his life and art and he justly ranks with Whitman and Dickinson as one of America's three greatest 19th-century poets. Complete here for the first time in the fourth and final installment in the Library of America's Herman Melville edition, are all four books of poetry he published in his lifetime plus uncollected poems and the poems from two projected volumes left unfinished at the time of his death, allowing readers to appreciate for themselves the extraordinary range of his poetic achievement.
Melville's first book of poetry, Battle-Pieces (1866), remains one of the very few great American books to have emerged from the Civil War. Dedicated to the Union dead, it is both a deeply philosophical work of mourning and a fascinating record of events, tracking campaigns and battles and the war's immediate aftermath. With a cast of characters surpassing that of Moby-Dick, the epic poem Clarel (1876), about an American divinity student's pilgrimage to the Holy Land, has been likened to Paradise Lost and The Waste Land as a profound exploration of the problem of belief. Also included in Complete Poems are the two privately issued books John Marr (1888) and Timoleon (1891), which contain some of Melville's finest lyric verse. Rounding out the volume are the extraordinary poems from his two unfinished manuscripts, Weeds and Wildings and Parthenope, along with miscellaneous uncollected poems. All of the poems are presented in the authoritative Northwestern-Newberry texts.
Published:

16 July 2019

ISBN:

9781598536188

Imprint:

Library of America

Format:

Hardback

Pages:

1200

RRP:

$75.00