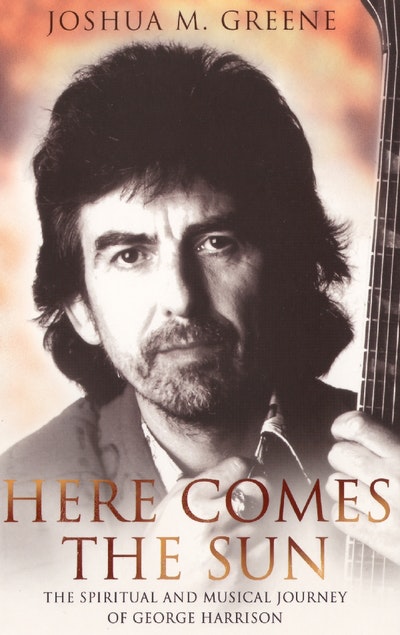 Published:

1 September 2006

ISBN:

9780553817966

Imprint:

Bantam

Format:

Paperback

Pages:

400

RRP:

$19.99
Here Comes The Sun
---
---
This new biography follows George Harrison's early life and career, his often underrated contribution to the Beatles' legacy, and the musical and spiritual journey that shaped his life.
'The soundtrack of [Harrison's] spiritual journey begins with the explosions of battle and ends, fifty-eight years later with the harmonies of eternal peace. And like all good stories, this one starts when the hero was just a child.'
In HERE COMES THE SUN Joshua Greene sheds new light on the most mysterious of the Beatles, George Harrison, and provides a unique portrait of the man through his music and his spiritual quest.
As Greene looks back at Harrison's early life and the years he spent growing up in an impoverished, post-war Liverpool, he follows the path taken by the quietly rebellious teenage, the experiences and friendships that helped to shape his destiny and, of course, explores Harrison's rollercoaster ride to fame as a member of the legendary Beatles. He also draws on scores of previously unpublished transcripts of recorded conversations, first-hand accounts and fresh anecdotes about Harrison and other musical greats such as Dylan and Presley.
Poignant, insightful, and written with an immediacy that captures the very essence of the 'quiet one', HERE COMES THE SUN gives us an unprecedented close-up of Harrison's often underrated contribution to the Beatles' legacy, and his spiritual awakening through Indian music, mysticism and meditation.
Published:

1 September 2006

ISBN:

9780553817966

Imprint:

Bantam

Format:

Paperback

Pages:

400

RRP:

$19.99
Praise for Here Comes The Sun
I love this book for many reasons, most of all for its fair and sensitive portrayal of my brother's open-minded approach to spirituality. He saw Spirit as belonging to everyone, and that wonderful quality in him comes through here with dignity and insight

Louise Harrison
I have fond memories of times George and I spent together and Here Comes the Sun really captures him - not just as a Beatle, but as an artist and a human being

Peter Frampton
Here Comes the Sun captures the music and the dazzling spiritual quests of the tumultuous 1960s through the story of George Harrison, the Beatle who as much as anyone embodied the era and its strange pilgrimage

Robert Ellwood, Professor Emeritus of Religion, University of Southern California
Wonderful! A detailed and comprehensive supplement to the memory of a gentle, driving force

Mike Pinder, founder of The Moody Blues
'Informed reflections on the late musician's spiritual quest...Greene presents a man deeply engaged in the world he longed to transcend'

Kirkus
'There is a palpable excitement to this book that made me feel I was there with George on his journey...This extraordinary work provides nourishment for all who hunger, as he did, for that ultimate state of grace'

Martin Rutte, co-author of Chicken Soup for the Soul at Work
'I love this book. With immediacy and grace, the author brings readers inside George Harrison's world to explore the spiritual, social, and musical forces that made up his genius. Five stars'

Pamela Clarke Keogh, author of Elvis Presley: The Man, The Life, The Legend
'A moving account of George Harrison's inner life and growth, this book not only provides fascinating details about his career and relations with his fellow Beatles, but also insight into the deeper motives behind his music and spiritual search. A thoroughly enjoyable read'

Klaus K. Klostermaier, Professor of Religious Studies, University of Manitoba, and author of A Survey of Hinduism
'Years of research and interviews with many who were there makes this a must-have book...Told with warmth, honesty and a lot of love'

Mark Lapidos, Founder of the Fest for Beatles Fans
Many well-known artists have touched people's hearts with their music, but few have ever succeeded in touching people's souls. That was George's gift, and his story is described here with affection and taste. A wonderful book

Mia Farrow