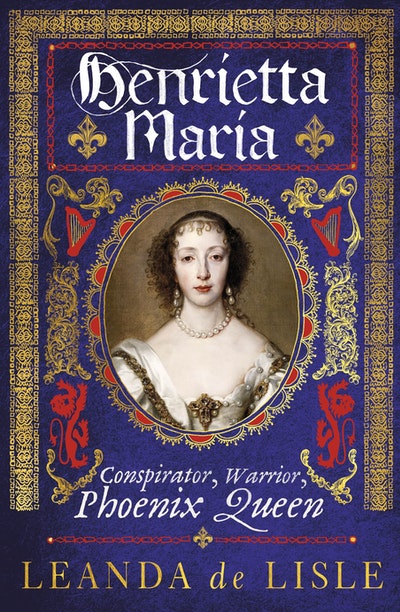 Published:

15 November 2022

ISBN:

9781784742973

Imprint:

Chatto & Windus

Format:

Trade Paperback

Pages:

496

RRP:

$35.00
Henrietta Maria
Conspirator, Warrior, Phoenix Queen
---
---
---
An important and entertaining revisionist biography of Henrietta Maria (1609-1699) by one of our most respected historians
A myth-busting biography of Henrietta Maria, wife of Charles I, which retells the dramatic story of the civil war from her perspective
Henrietta Maria is Britain's most reviled queen consort. Condemned in her lifetime as the 'Popish brat of France', an adulteress and traitor, she remains in popular memory the wife who wore the breeches, made her husband Catholic and so caused a civil war, and a cruel and bigoted mother.
This biography unpicks the myths and considers Henrietta Maria's point of view. A woman emerges whose closest friends included Puritans as well as Catholics, who crossed swords with Cardinal Richelieu and led the anti-Spanish faction at court. A witty conversationalist, she was a patron of the arts and a champion of the female voice, as well as a mediatrix for her persecuted fellow Catholics.
During the civil war the queen's enemies agreed that Charles would never have survived as long as he did without the She Generalissimo. Seeing events through her gaze reveals the truth behind the claims that she caused the war, explains her estrangement from her son Henry and undoes the image of the Restoration queen as an irrelevant crone. In fact, Henrietta Maria rose from the ashes of her husband's failures -- a 'phoenix queen' - presiding over a court judged to have 'more mirth' even than that of the Merry Monarch, Charles II.
It is time to look again at this despised woman and judge if she is not, in fact, one of history's most remarkable.
Published:

15 November 2022

ISBN:

9781784742973

Imprint:

Chatto & Windus

Format:

Trade Paperback

Pages:

496

RRP:

$35.00
Praise for Henrietta Maria
Leanda de Lisle has brilliantly overturned nearly four centuries of misogynistic, religiously bigoted and politically motivated myths about Henrietta Maria, who now emerges as a fascinating, fearless, but ill-fated woman, wife and mother. This is revisionist history at its absolute best

ANDREW ROBERTS, author of George III: The Life of Britain's Most Misunderstood Monarch
Leanda de Lisle has brilliantly overturned nearly four centuries of misogynistic, religiously bigoted and politically motivated myths about Henrietta Maria, who now emerges as a fascinating, fearless, but ill-fated woman, wife and mother. This is revisionist history at its absolute best

ANDREW ROBERTS, author of George III: The Life of Britain's Most Misunderstood Monarch
This is popular history of the finest kind, vivid, immediate, well researched and telling a compelling story. It is also serves the first duty of biography, by making its subject more wholly understandable than before.

RONALD HUTTON, author of The Witch
This is popular history of the finest kind, vivid, immediate, well researched and telling a compelling story. It is also serves the first duty of biography, by making its subject more wholly understandable than before.

RONALD HUTTON, author of The Witch
Leanda de Lisle's beautifully written and endlessly fascinating new biography of Henrietta Maria brings one of the 17th century's most misunderstood women to glorious life . . . This salutary and important book restores her to her rightful place as one of the most important figures of her time

ALEXANDER LARMAN, author of The Crown in Crisis
Leanda de Lisle's beautifully written and endlessly fascinating new biography of Henrietta Maria brings one of the 17th century's most misunderstood women to glorious life . . . This salutary and important book restores her to her rightful place as one of the most important figures of her time

ALEXANDER LARMAN, author of The Crown in Crisis