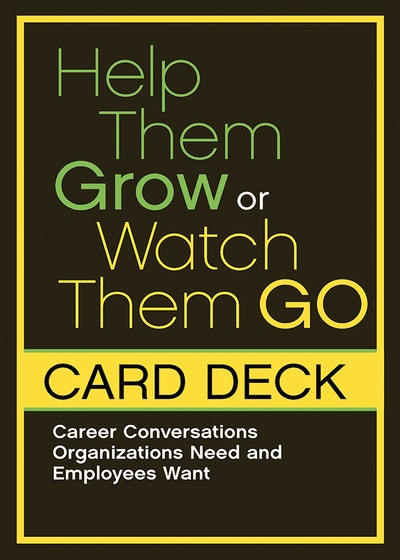 Published:

15 January 2019

ISBN:

9781523097982

Imprint:

Berrett-Koehler

Format:

Paperback

Pages:

56

RRP:

$24.99
Help Them Grow Or Watch Them Go Cards
Tools to Cultivate Career Conversations
---
---
An exciting new coaching and self-discovery tool that helps people discover the best career path possible from the bestselling authors of Help Them Grow or Watch Them Go, Bev Kaye and Julie Winkle Giulioni.
This card deck is a flexible, multi-purpose tool for leaders who want to change the development conversations they have with their employees, and for anyone, at any level, who wants to think deeply about their career trajectory. The 56 cards share the most insightful questions leaders worldwide have been asked... or wish they had been asked. These questions touch on the state of the industry ("What do you predict will be the 'next big thing' in your field?), employees' jobs ("What one skill would help you be twice as effective?") and even their most personal aspirations ("When do you feel most alive?"). It will facilitate insights into how to approach development, build greater confidence, and change deeply entrenched development mindsets.
There are dozens of ways you can use this deck. You can review the questions yourself and select the 7-8 that resonate with you - the ones you'd like to ask/answer. Or put the cards in a bowl in your office and invite employees to pick one when they come in... and use it as the basis for a short conversation. Distribute questions to team members with the assignment/invitation to prepare a 3 minute response at an upcoming meeting. And much more!
Published:

15 January 2019

ISBN:

9781523097982

Imprint:

Berrett-Koehler

Format:

Paperback

Pages:

56

RRP:

$24.99