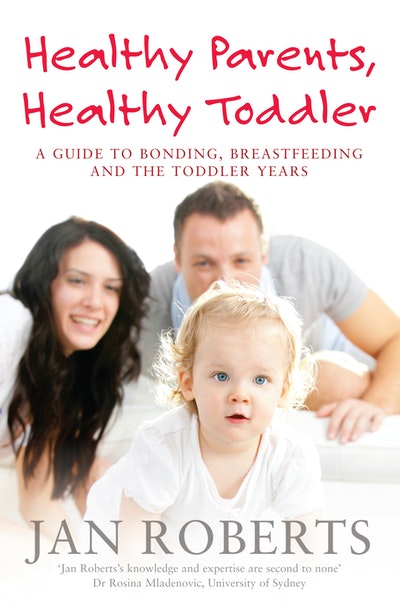 Published:

2 July 2012

ISBN:

9781742752204

Imprint:

Doubleday Australia

Format:

Paperback

Pages:

240

RRP:

$29.99
Healthy Parents, Healthy Toddler: A Guide to Bonding, Breast Feeding and the Toddler Years
---
---
---
Your guide to bonding with your baby, breastfeeding and the toddler years.
Your guide to bonding with your baby, breastfeeding and the toddler years.
'I'm calling on the mums (and dads) of the world to join the movement to a wiser, more attached and connected style of parenting - because I think you've drawn the short straw. Parenting was never meant to be so difficult, never meant to be such a minefield of procedures and processes, uncertainty and doubt, information and misinformation.' --Jan Roberts
In an increasingly time-poor and complex parenting environment, mums and dads are finding it harder than ever to get the straightforward information they need to raise happy healthy children.
Health-care expert Jan Roberts has more than 40 years of health-care experience behind her. In Healthy Parents, Healthy Toddlers , she offers invaluable advice in simple, every-day language.
Using clear segments, Jan outlines all the 'stuff you need to know', starting with your preparation for a natural unmedicated birth, through the breastfeeding period, and on to the early years with your toddler.
Once you are clear on 'what you need to know', the 'things you need to do' section offers advice on diet and supplements, exercise routines, your mental and emotional state and your lifestyle and environment, all of which apply to whether you're pregnant, breastfeeding or raising your family.
Included in Healthy Parents, Healthy Toddler are:
- Essential step-by-step information for a natural birth
- Handy checklists for the arrival of your baby
- Exercise and nutrition tips for easier breastfeeding
- The secrets of better breastfeeding, including attachment and positioning
- Invaluable advice for bonding with your new baby
- Easy tips to improve your lifestyle and environment
- Simple, fuss-free recipes for healthy family meals
Having a toddler in the house is not always easy. Reassurance that we're doing the right thing as a parent is what we all look for. Jan Roberts's clear, accessible style and matter-of-fact approach can ease these parental doubts and help to boost the confidence you need to be the best parent you can be.
'Jan Roberts's knowledge an expertise are second to none' Dr Rosina Mladenovic, Univeristy of Sydney
Published:

2 July 2012

ISBN:

9781742752204

Imprint:

Doubleday Australia

Format:

Paperback

Pages:

240

RRP:

$29.99