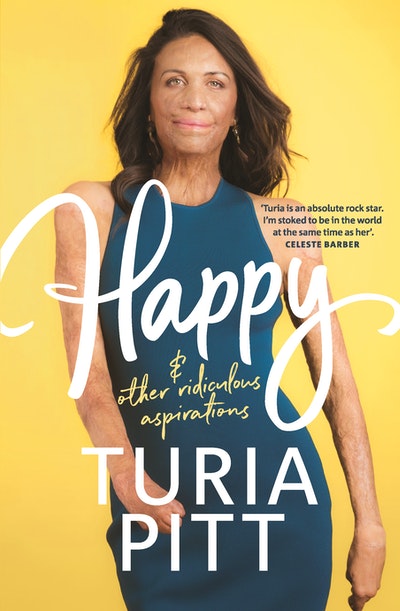 Published:

15 September 2020

ISBN:

9781760892883

Imprint:

Ebury Australia

Format:

Trade Paperback

Pages:

320

RRP:

$34.99
Happy (and other ridiculous aspirations)
---
---
---
Happiness. Everyone wants more of it. But can you actually get happier? Inspirational Australian Turia Pitt dives into this idea, interviewing high-profile athletes, comedians, scientists and world experts to explore how everything from money to our relationships has an impact on how happy we can be.
'Thank god for Turia! She is an absolute rock star. I'm stoked to be in the world at the same time as her'. Celeste Barber
Thousands of people have told me the one thing they're searching for in life is happiness. So, I set out on a dragon-free quest to prove if 'happy' is, actually, an attainable goal, and not just a ridiculous aspiration.

In this book, with her characteristic humour and gutsy intelligence,* Turia Pitt goes on a quest to answer the question, Is it possible to be happier?
What does she discover on her journey? Well, look, that's why we want you to buy the bloody book, but we can tell you that it entails, among other things, practising gratitude, working on kindness, self-love, strengthening your relationships and accepting the hard times and bad days.
Turia unpacks all of the above with easy-to-implement tips and strategies, hilarious insights into her own life and relationships, and introduces us to some of the world's most fabulous people along the way, including Leigh Sales, Scott Pape, Zoë Foster Blake, Maria Forleo and Mick Fanning.

*She made us say that.
Published:

15 September 2020

ISBN:

9781760892883

Imprint:

Ebury Australia

Format:

Trade Paperback

Pages:

320

RRP:

$34.99
Praise for Happy (and other ridiculous aspirations)
Thank god for Turia! She is an absolute rock star. I'm stoked to be in the world at the same time as her.

Celeste Barber
Turia Pitt is fierce. Fiercely brave. Fiercely confident. Fiercely determined. Fiercely funny. In the time I've known her, she's taught me everything about what it means to be a woman who knows her worth and who rates her value, inside and out. The word inspirational is an overused one. Not in this case. Meeting Turia and talking to her left me awe-struck.

Mia Freedman
Turia has so many of the qualities I love and admire. She's inspiring, intelligent, courageous, funny and takes the 'never give up attitude' to a whole new level! Her passion for life is contagious and I consider myself extremely fortunate to have had the opportunity to get to know this truly amazing woman.

Lorna Jane Clarkson, founder of Lorna Jane
Turia Pitt is the most inspiring woman I have ever had the pleasure of meeting. I was in awe of her from the outset, just from knowing her story. But the real Turia is even more remarkable that the one you see. She is fiercely intelligent, she is warm, she is very funny. And, she is very generous. I have never and will probably never meet anyone quite like her.

Helen McCabe, former editor-in-chief of the Australian Women's Weekly
Article
Article
Turia Pitt Q&A
The inspirational author on gratefulness, savouring, self-love and getting through tough times.
Article