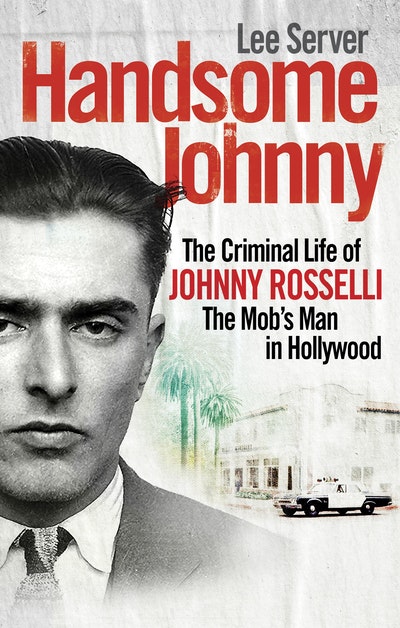 Published:

15 December 2018

ISBN:

9780753522301

Imprint:

Virgin Books

Format:

Paperback

Pages:

544

RRP:

$19.99
Handsome Johnny
The Criminal Life of Johnny Rosselli, The Mob's Man in Hollywood
---
---
The untold story of the legendary mobster with nuclear-powered charm, who started out in Chicago speakeasies, controlled Golden Age Hollywood, ran the Las Vegas strip and infiltrated the JFK-era White House as a hired killer.


'A smile can get you far, but a smile with a gun can get you further.'
- Al Capone
Featured in Vice
A man of singular influence in the American underworld, Johnny Rosselli's career flourished for half a century, from the bloody years of bootlegging in the Twenties - the last protégé of Al Capone - to the modern era of organised crime as a dominant corporate power.
The Mob's 'Man in Hollywood', Johnny introduced big-time crime to the movie industry, corrupting unions and robbing moguls in the boldest extortion plot in history. Meanwhile, he consolidated his empire by smoothly befriending studio bosses and seducing their biggest stars, including Marilyn Monroe.
In the 50s, Rosselli saw a new opportunity overseeing the birth and heyday of Las Vegas, and became the gambling mecca's behind-the-scenes boss, enjoying the Rat Pack night life with pals Frank Sinatra and Dean Martin.
Then, in the 60s, incredibly, he became the central figure in a bizarre plot involving the Kennedy Whitehouse, the CIA and an attempt to assassinate Castro.
Based on years of research, this utterly compelling, richly detailed page-turner takes you inside American organised crime at the highest level. A story of extreme violence and superstar glamour - with Handsome Johnny in both roles.
Published:

15 December 2018

ISBN:

9780753522301

Imprint:

Virgin Books

Format:

Paperback

Pages:

544

RRP:

$19.99
Praise for Handsome Johnny
The incredible life of Handsome Johnny, a gangster worthy of the movies....Server's biography not only provides a window into Rosselli's life but also contextualizes a time when Hollywood, politics and organized crime were inextricably linked.

The Washington Post
Written in the snappy style of a hardboiled detective novel...an in-depth history of the growth, development and eventual decline of organized crime in America.

The Economist
A definitive rags-to-riches biography... Paced like a fine piece of fiction, this is a handsomely written chronicle of an interesting mob character.

Kirkus Reviews