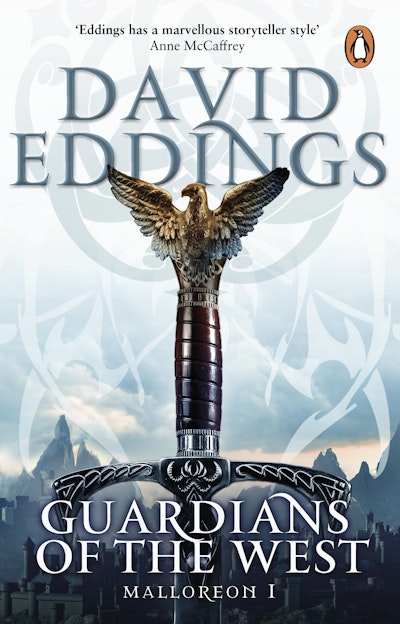 Published:

16 January 2013

ISBN:

9780552168564

Imprint:

Corgi

Format:

Paperback

Pages:

432

RRP:

$19.99
Guardians Of The West
(Malloreon 1)
---
---
The first book of the Malloreon.
Warned by the prophecy that a new and greater danger threatens the lands of the west, Garion, Belgarath and Polgara must begin another quest to save the lands from great evil.
Three years have passed since Garion's killing of the evil god Torak and his marriage to Ce'Nedra. He is now Overlord of the West, slowly learning how to cope with the duties of a king and to overcome the difficulties within his marriage.
When the Orb of Aldur warns Garion to 'Beware Zandramas!' the Voice of Prophecy reveals that somewhere in the unknown land of the East the Dark Prophecy still exists and that great new dangers threaten.
While Belgarath and Garion seek to uncover the nature of this threat, Garion's baby son is kidnapped. All evidence points to the loathsome Bear-cult, which has gained power once more, and Garion leads an army bent on its destruction. But there are even more sinister forces at work, and Garion and his followers must look towards the malign and mysterious evil of Zandramas. Their quest must begin again.
THUS BEGINS BOOK ONE OF THE MALLOREON
Published:

16 January 2013

ISBN:

9780552168564

Imprint:

Corgi

Format:

Paperback

Pages:

432

RRP:

$19.99