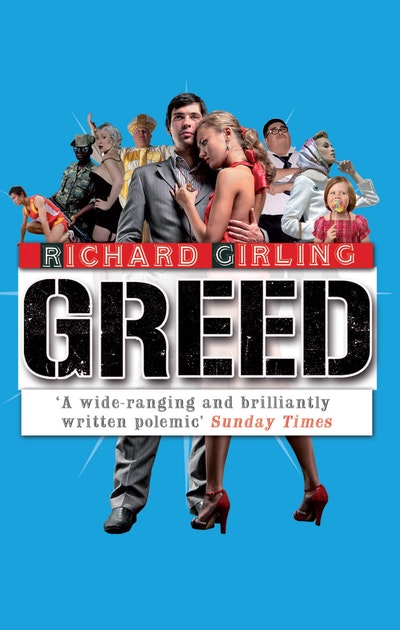 Published:

29 February 2016

ISBN:

9780552173223

Imprint:

Corgi

Format:

Paperback

Pages:

368

RRP:

$24.99
Greed
---
---
A timely polemic on greed: how it drove our ancesters out of their caves but is now sending us careering towards our destruction.
Selfishness and greed have been our tools of survival from the very beginning, ever since our earliest forebears climbed down from the trees and set off across the savannah in search of God. Evolution has given us an instinct that is as crucial to our survival as fear or sex but, in the third millennium, greed has become out of control:
· The world's most expensive sandwich costs £85.
· A failed banker is given a pension fund approaching £700,000 a year
· A sacked national football coach waiting out his contract earns £13,000 a day.
Spanning across a whole range of issues including obesity, American evangelism, the Iraq war and GM food, Greed is not just a lament for lost innocence or an assault on the fat cats - it's also a celebration of all that greed has prompted us to achieve and what should be possible for us in the future.
Published:

29 February 2016

ISBN:

9780552173223

Imprint:

Corgi

Format:

Paperback

Pages:

368

RRP:

$24.99
Some cracking sections . . . there's stuff to make your jaw drop . . . Girling also has a very good ear for the telling quotation.

Sam Leith, Daily Mail
In the course of his wide-ranging and brilliantly written polemic...Girling demonstrates just why we need to keep the monster firmly on the leash.

Sunday Times
His observations are insightful.

Daily Telegraph
Richard Girling's Greed is a book to curl up with . . . also curling your lip and maybe your fists as well. Beware though, he has one or two surprises in store . . .

Classic FM
Lively and energetic... an enriching exploration into the ways in which greed and its progeny - selfishness, jealousy, and ambition - are essential to our wellbeing, enjoyment and more,and to our success as human beings.

Good Book Guide