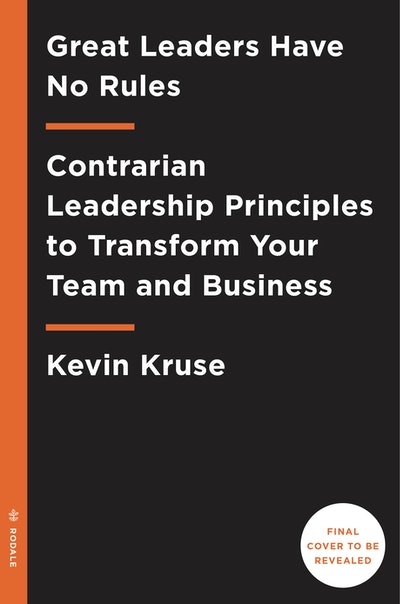 Published:

2 April 2019

ISBN:

9781635652161

Imprint:

Crown

Format:

Hardback

Pages:

256

RRP:

$42.99
Great Leaders Have No Rules
Contrarian Leadership Principles to Transform Your Team and Business
---
---
New York Times bestselling author and serial entrepreneur Kevin Kruse debunks popular leadership wisdom by advising leaders to play favorites, stay out of meetings, reveal everything (including salaries), and more.
Inspired by one of Kruse's most popular articles on Forbes.com, "Why Successful Leaders Don't Have an Open Door Policy," which had more than 50,000 readers in a single week, Close Your Open Door Policy shows how a contrarian approach can be a better, faster, and easier way to succeed as a leader. Kevin Kruse has started or cofounded several multimillion-dollar companies, and his experiences as a serial entrepreneur showed him time and time again that the leadership practices that actually work are the opposite of what's commonly taught and implemented.
Weaving engaging real-world stories with quantitative research to support his advice, Kruse makes the case for his ten contrarian principles. Each chapter focuses on one piece of wisdom, such as Successful Leaders Never Bring Smartphones to Meetings and Successful Leaders Have No Rules, that bucks the trend and helps leaders be more effective. He also shows how his advice applies beyond the office—at home, with kids, in sales, on the field, in the military, and in your personal relationships. Ultimately, his advice empowers you to focus on what matters at work and in life—the key to success for you, your employees, and your company.
Published:

2 April 2019

ISBN:

9781635652161

Imprint:

Crown

Format:

Hardback

Pages:

256

RRP:

$42.99