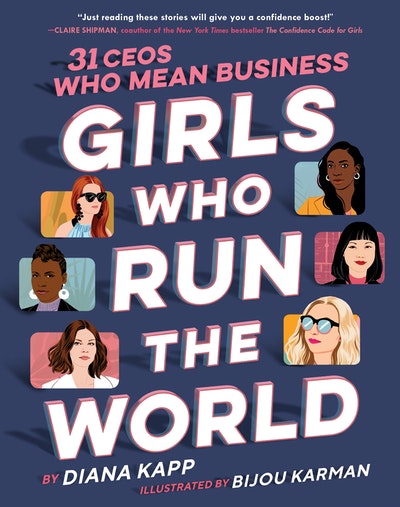 Published:

7 January 2020

ISBN:

9781984893055

Imprint:

RHUS Children's Books

Format:

Hardback

Pages:

320

RRP:

$29.99
Girls Who Run the World
31 CEOs Who Mean Business
---
---
Part biography, part business how-to, and fully empowering, this book is the perfect gift for future entrepenuers! With colorful portraits, fun interviews and DIY tips, Girls Who Run the World features the success stories of 30 leading ladies today of companies like Rent the Runway, PopSugar, and Soul Cycle.
Girls run biotech companies.
Girls run online fashion sites.
Girls run environmental enterprises.
They are creative. They are inventive. They mean business.
Girls run the world.
This collection gives girls of all ages the tools they need to follow their passions, turn ideas into reality and break barriers in the business world.

Jenn Hyman, Rent the Runway
Sara Blakely, Spanx
Emma Mcilroy, Wildfang
Katrina Lake, Stitch Fix
Natasha Case, Coolhaus
Diane Campbell, The Candy Store
Kara Goldin, Hint Water
Anne Wojcicki, 23andMe
Rachel Haurwitz, Caribou Bioscience
Nina Tandon, EpiBone
Jessica Matthews, Uncharted Power
Jane Chen, Embrace
Emily Núñez Cavness, Sword & Plough
Hannah Lavon, Pals
Leslie Blodgett, Bare Escentuals/Bare Minerals
Katia Beauchamp, Birchbox
Emily Weiss, Glossier
Christina Stembel, Farmgirl Flowers
Mariam Naficy, Minted
Maci Peterson, On Second Thought
Stephanie Lampkin, Blendoor
Sarah Leary, Nextdoor
Amber Venz, RewardStyle
Lisa Sugar, Pop Sugar
Beatriz Acevedo, MiTu network
Julie Rice and Elizabeth Cutler, Soul Cycle
Suzy Batiz, Poo-Pourri
Tina Sharkey, Brandless
Jesse Genet, Lumi
Tracy Young, Plan Grid
Published:

7 January 2020

ISBN:

9781984893055

Imprint:

RHUS Children's Books

Format:

Hardback

Pages:

320

RRP:

$29.99
Praise for Girls Who Run the World
"Just reading these stories will give you a confidence boost! Here are 30 incredible women with plenty of secrets to share; they'll show you that your journey may have bumps, and it probably won't be a straight path, but if you keep going you will make amazing things happen." –Claire Shipman, author of NYT bestseller The Confidence Code for Girls.   "Girls Who Run the World is a modern-day encyclopedia of the women who are changing the world today, period." —Sophia Amoruso, Founder & CEO, Girlboss, a media company dedicated to empowering women in business, and author of NYT bestseller #Girlboss.   "Diana Kapp brings us one of the most important gifts of all: inspiration for the next generation to create lives fueled with equal parts purpose and ambition. This book is a joyful testament to the power of girls, the power of immigrants, and the unlimited potential for young people everywhere to dream boldly."—Laurene Powell Jobs, Founder, Emerson Collective and College Track.    "All girls should dare to dream big, and Girls Who Run the World gives them the tools to not only achieve those dreams, but to change the world while they're doing it."—Arianna Huffington, Founder & CEO, Thrive Global   "Girls Who Run the World is a woman-to-woman playbook that spotlights bold businesswomen who have achieved success and done it in their own way. In these pages, Kapp reminds all women that if we work hard as one team and support one another, there is no limit to how far we will go." – Former Secretary of State, Madeleine K. Albright     "The startup community needs more female and underrepresented founders. Diana Kapp's book is sure to inspire future female founders from all backgrounds to start companies that will change the world. These profiles will give them the tactics and conviction to take a risk on their idea and create a product people will tell their friends about."—Sam Altman, President of Y Combinator and Co-chairman of OpenAI    "The book allows us to imagine success by seeing the Girl CEOs accomplish it."—Gitanjali Rao, age 14, 2017 winner of Discovery Education 3M Young Scientist Challenge