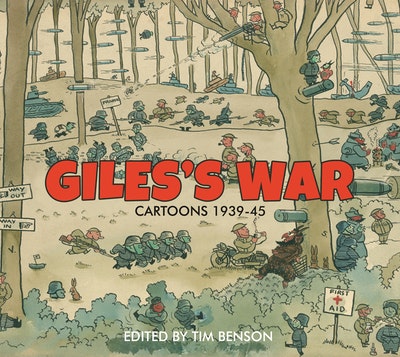 Published:

6 July 2017

ISBN:

9781473543928

Imprint:

Cornerstone Digital

Format:

EBook

Pages:

224
Giles's War
---
---
The Second World War as seen through the eyes of one of Britain's best-loved cartoonists.
Few contemporaries captured Britain's indomitable wartime spirit as well or as wittily as the cartoonist Carl Giles. Now, for the first time, the very best of the cartoons he produced between 1939 and 1945 are brought together, including many that have not seen the light of day in over 75 years.
As a young cartoonist at Reynold's News and then the Daily Express, Giles's work provided a crucial morale boost - and much-needed laughs - to a population suffering daily privations and danger, and Giles's War shows why. Here are his often hilarious takes on the great events of the war - from the Fall of France, via D-Day, to the final Allied victory - but also his wryly amusing depictions of ordinary people in extraordinary times, living in bombed-out streets, dealing with food shortages, coping with blackouts, railing against bureaucracy and everyday annoyances. It's a brilliantly funny chronicle of our nation's finest hour, as well as a fitting tribute to one of our greatest cartoonists.
Published:

6 July 2017

ISBN:

9781473543928

Imprint:

Cornerstone Digital

Format:

EBook

Pages:

224
[The] secrets of much-loved wartime cartoonist Giles [are] revealed in a new book . . . The cartoons that had kept the Reynold's News readers laughing, including many of heroic Russians such as an amiable Joseph Stalin propping up a bar, or a doughty little peasant woman bringing in a clump of roped-up captured German soldiers - have been collected for the first time in Giles's War.

Guardian
A new book of WWII cartoons by Giles shows why his humour was so popular at the time . . . Giles's efforts can still surprise and even raise a smile.

Morning Star
[Giles's] genius was capturing the views of ordinary folk . . . Wonderful cartoons.

Nick Robinson, Radio 4 Today
This treasurable collection includes more than 100 cartoons that have not been seen for 75 years.

Choice
The cartoons offer a vivid portrayal of the war, of Giles's formative years and of a brief chapter in the history of co-operative journalism, when it boasted a future icon among its ranks.

Co-operative News
On our bookshelves there is always somewhere that is forever Gilesland.

Daily Herald