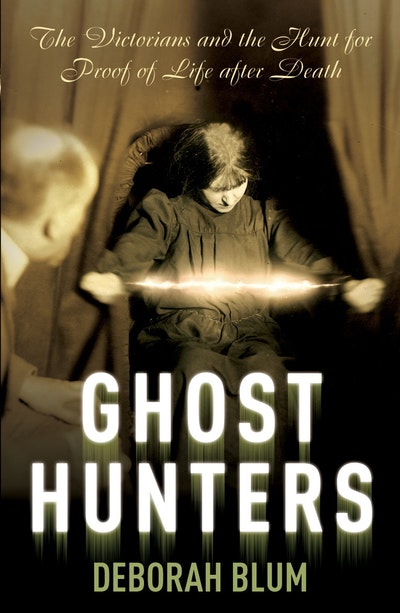 Published:

1 October 2007

ISBN:

9780099469346

Imprint:

Arrow

Format:

Paperback

Pages:

384

RRP:

$32.99
Ghost Hunters
---
---
The fascinating history of 19th century scientists' quest to discover the boundaries between this world and the next.
In Victorian Britain, a group of eminent scientists got together to found a society expressly to prove the existence of ghosts.
The age of Darwin represented the greatest scientific advances known to man. The tension between science and religion was exposed by Darwin's On the Origin of the Species in 1859, which challenged the basic tenets of belief.
Yet many of those in the forefront of the scientific revolution could not give up the idea of a higher reality. Life after death was the unknown frontier. Victorian society was full of mediums claiming they could communicate with the spirits of the dead. Baffling psychic phenomena occurred every day at séances: mysterious rappings were heard, furniture moved, ghostly forms appeared, the mediums spoke in the altered voices of the dead with information only their nearest could possibly know. Pyschometry involving locks of hair and watches and children's toys; telepathy; ouija boards; apparitions; astral projection: all were commonplace.
In 1882 the Society of Psychical Research was founded in London to investigate all these phenomena: it was a group led by some of the greatest scientists of the age but its membership also included Alfred, Lord Tennyson, Leslie Stephen, Virginia Woolf's father, John Ruskin, the Reverend Charles Dodgson (Lewis Carroll) and Samuel Clemens (Mark Twain). Six months later William James, Professor of Psychology at Harvard, and the brother of Henry James visited London and went on to set up American branch.
Their experiments went on for years. Many mediums, like the notorious Madame Blavatsky, were exposed as charlatans yet there were some mediums who continued to communicate directly with another world, who despite every rigorous scientific test seemed to prove that souls survived death. This is the story of this group of forward thinkers: many of whom were driven to the spirit world by personal tragedy, some whose feeling of loss lead to their own suicides. It is the story of the greatest ghost hunt of any age.
Published:

1 October 2007

ISBN:

9780099469346

Imprint:

Arrow

Format:

Paperback

Pages:

384

RRP:

$32.99
A book as fascinating as any detective story

Daily Mail
Blum presents a fascinating story in a very readable but accurate style...the climax of the book, as gripping as fiction, is an account of the séances held after the psychic researchers themselves had died

Guardian
Fascinating book...Blum can tell a good story. Compelling material

Time Out
As you read this book, your eye will be drawn to the corners of the room, to look for shadows, and to the curtains to check for unnatural billowing. It is spooky. This is history as you want it to be written. When I picked this one up, I would have told you I didn't believe in ghosts. And now I'm not so sure.

William Leith, daily Telegraph
Deborah Blum's Ghost Hunters is a fascinating, moving and, most importantly, paradigm-challenging account of the lives and works of the many scientists and thinkers who championed the cause of psychical research

Independent on Sunday
It is a fascinating, scholarly portrait of a perplexed, inquisitive age

Daily Telegraph