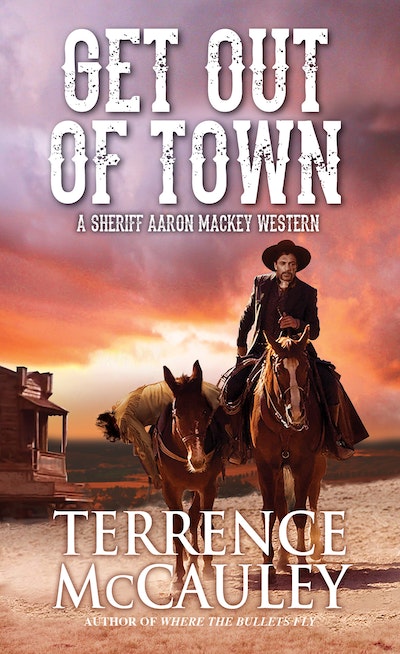 Published:

25 November 2020

ISBN:

9780786046522

Imprint:

Kensington

Format:

Paperback

Pages:

352

RRP:

$17.99
Get Out of Town
---
---
Dover Station, Montana, is no place for a lawman. A sheriff's badge ain't worth a nickel here—unless you've got the bullets to back it up . . .
When he signed up to be sheriff of this dirty little boomtown, Aaron Mackey knew he was asking for trouble. Once, when Mackey was the U.S. marshal for the whole Montana Territory, he swore no job could get any harder. But that was before he took down a few of the bank-robbing Hancock gang in Dover Station—and incurred the wrath of the gang's maniacal matriarch, Mad Nellie Hancock.
And that was before every avenging outlaw and hired henchmen came crawling out of the woodwork to kill him—in the meanest, bloodiest showdown the town had ever seen . . .
Aaron Mackey knows you can't fight city hall. But you can flush out every kill-crazy outlaw, greedy grifter, and boomtown rat—then exterminate with extreme prejudice . . .
"McCauley's more than a fair hand at Westerns . . . with nonstop action."
—Roundup Magazine on Where the Bullets Fly

"Comes out guns blazing from the very first page and doesn't let up until the action-packed finale . . . a real page-turner."
True West
"A captivating western . . . the setting is harsh and even the violence is gratifying."
—Booklist, STARRED review on Dark Territory
Published:

25 November 2020

ISBN:

9780786046522

Imprint:

Kensington

Format:

Paperback

Pages:

352

RRP:

$17.99