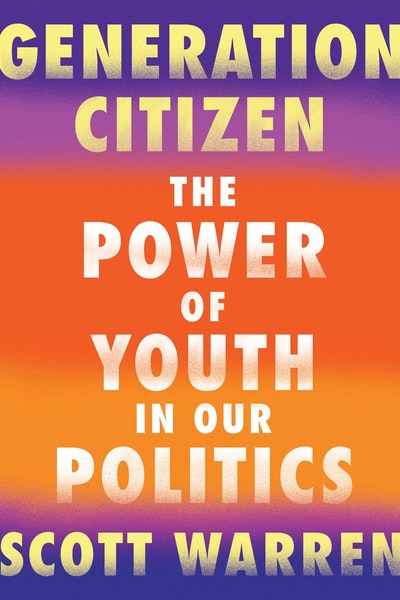 Published:

5 March 2019

ISBN:

9781640091276

Imprint:

Catapult

Format:

Paperback

Pages:

384

RRP:

$27.99
Generation Citizen
The Power of Youth in Our Politics
---
---
"Required reading." —Josh Tickell, author of The Revolution Generation
Since its beginnings in 2009, Generation Citizen has grown to become one of the preeminent civics education organizations in America. Championing the activism of young people now and throughout history—from the civil rights movement to #BlackLivesMatter and the Parkland students—Generation Citizen is a bold reminder of the positive power of politics, and an inspiring, actionable guide for anyone ready to fight for democracy.
"Timely and accessible. The rising generation is ready to exercise power—and save our republic." —Eric Liu, CEO of Citizen University and author of You're More Powerful Than You Think
Published:

5 March 2019

ISBN:

9781640091276

Imprint:

Catapult

Format:

Paperback

Pages:

384

RRP:

$27.99
Praise for Generation Citizen
Praise for Generation Citizen A Big Other Most Anticipated Small Press Book of the Year "Insightful, inspirational . . . A useful resource for aspiring political activists." —Rebekah Kati, Library Journal "Warren, co–founder and CEO of the national political youth movement Generation Citizen, makes his book debut with a pragmatic, anecdote–filled guide for empowering young people . . . An enthusiastic, supportive manifesto to inspire political engagement." —Kirkus Reviews "At a time when the future of our country and our world hangs in the balance, Scott Warren delivers a powerful, stirring, and deeply important call to action for our most vital and undernurtured citizen force: our youth. This book should be required reading for anyone under the age of thirty–five." —Josh Tickell, author of The Revolution Generation "Scott Warren argues forcefully and eloquently that young people will save us all—and he comes with the receipts to prove it. By sharing his own lived experience and that of some of the hundreds of thousands of young people touched through his work at Generation Citizen, Warren lays out how we can take charge wherever we are, no matter our age. Following Warren's advice, any of us can and will change the world." —Amanda Litman, CEO of Run for Something and author of Run for Something: A Real–Talk Guide to Fixing the System Yourself "Scott Warren is at the vanguard of a new movement called Action Civics, based on the all–American idea that the best way for young people to learn democracy is to practice it at the local level. In this timely and accessible new book, Warren deftly combines stories and strategies to show us that the rising generation is ready to exercise power—and save our republic." —Eric Liu, CEO of Citizen University and author of You're More Powerful Than You Think: A Citizen's Guide to Making Change Happen "With incisive language, compelling stories, and a clarion call to action, Scott Warren's Generation Citizen offers a compelling argument for the essential role that government plays in our lives and the essential role young people can—and must—play in building the beloved community. A must–read for anyone worried about our shared democracy and hopeful about young people's power to change it." —Eric D. Dawson, CEO of Peace First "Life can be full of surprises, twists, and failures. This is certainly the case for Scott Warren, the cofounder and CEO of the fastest–growing civics education organization called Generation Citizen, or as he turns out, a reluctant social entrepreneur. This refreshingly honest and reflective chronicle of this young leader is filled with deeply personal events and encounters with people that changed his life. At the same time, his own experience is an example of young people making a positive change. Through stories of his own and his students', Warren makes a compelling case that young people from all backgrounds can and should lead the change. Warren weaves many stories of young people leading the change in different places, using different means, and how pivotal education can be in giving young people the tools they need to activate their ideas and to 'right the wrong.' Warren, who grew up all over the world himself, has an enduring appreciation of the great American experiment and the republican form of democracy, and is absolutely set on making sure that every person gets the preparation they need to achieve their civic leadership potential. It is an inspiration and a call to action for young people and adults who want to see progress, to start believing in young people's ability to lead, not later when they 'grow up,' but today.