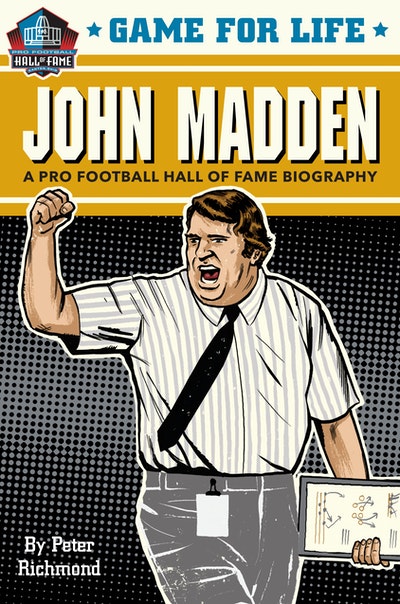 Published:

30 July 2019

ISBN:

9781635652468

Imprint:

RHUS Children's Books

Format:

Hardback

Pages:

208

RRP:

$22.99
Game for Life
John Madden
---
---
---
First-ever branded children's book partnership with the NFL's Pro Football Hall of Fame, using their name and mark. There are 300 members, ranging from the long retired to currently active. Many have never been the subject of a youth biography. Rodale will have access to the HOF/NFL's resources, which includes their extensive photo archives.Join the Pro Football Hall of Fame in celebrating the legendary coach, announcer, and video game personality! This new biography is based on interviews with John Madden himself!
Nobody knows more about football than John Madden does. His childhood revolved around sports. When an injury kept him from playing in the NFL, he continued to learn everything he could about football. As head coach of the Oakland Raiders, Madden won more games than any other coach in Raiders history. Then he used his football knowledge as a commentator and the creator of one of the most popular video games ever—Madden NFL. Find out why John Madden is such a beloved member of the Pro Football Hall of Fame!
Game for Life biographies support the Pro Football Hall of Fame's mission to honor the heroes of the game, preserve its history, promote its values, and celebrate excellence everywhere. Don't miss Game for Life: Michael Strahan!
Published:

30 July 2019

ISBN:

9781635652468

Imprint:

RHUS Children's Books

Format:

Hardback

Pages:

208

RRP:

$22.99