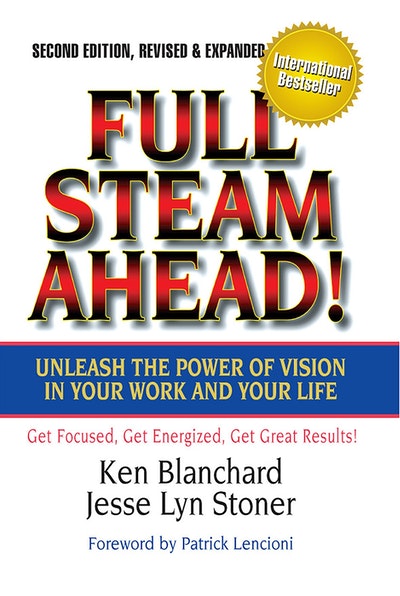 Published:

1 January 2018

ISBN:

9781605098753

Imprint:

Berrett-Koehler

Format:

Hardback

Pages:

216

RRP:

$42.99
Full Steam Ahead!
---
---
NEW EDITION, REVISED AND UPDATED
Through a beautifully written, engaging story about two people who are struggling to create visions—both for the company where they work and for their own lives—Blanchard and Stoner detail the essential elements of creating a successful vision.
In Full Steam Ahead! you'll learn:
-How to use the power of vision to get focused, get energized, and get great results
-How to create a vision that touches the hearts and spirits of everyone in your organization
-How to create a vision for your own life that provides meaning and direction
This new edition is thoroughly revised, with a new chapter on sustaining your vision, updated examples, more information on creating vision for teams, and a new section that includes a vision assessment and a game plan for creating a shared vision.
Published:

1 January 2018

ISBN:

9781605098753

Imprint:

Berrett-Koehler

Format:

Hardback

Pages:

216

RRP:

$42.99
Praise for Full Steam Ahead!
"The clearest, the most cogent statement I've read that gives meaning and life to vision. Even Dilbert will get it!" —Warren Bennis, author of Still Surprised and On Becoming a Leader "This story provides a wonderful road map through the very important territory of vision that can move into action. I found myself recalling many details of the journey well after I put the book down—it stayed vividly in my memory. A powerful, simple guide for a journey we all need to take." —Margaret J. Wheatley, author of Leadership and the New Science and Walk Out Walk On "For those who…extract the lessons from this wonderfully powerful and simple book and put them into practice, the rewards will be extraordinary." —from the introduction by Patrick Lencioni, President, The Table Group, and author of The Five Dysfunctions of a Team "Inspiring a shared vision is the signature leadership competency. It's also the most difficult practice to learn and apply. In this wonderful gem of a book Ken Blanchard and Jesse Stoner show you how to find a meaningful purpose, picture a compelling future, and clarify your values. This engaging story is full of practical advice that you'll be able to apply immediately.  It's essential reading for any leader who needs to answer the question, 'Where are we going?' Come to think of it, that would be all of us!" —Jim Kouzes, coauthor of the bestselling The Leadership Challenge and The Truth about Leadership, and Dean's Executive Professor of Leadership, Leavey School of Business. "So many of the lessons I share with my teams revolve around attaining goals by having a clear vision of where we are headed as a group and also individually. Full Steam Ahead! emphasizes the ways in which those visions can not only help you reach greatness but also maintain it for you and your team. In the past I've shared this book with friends and coaching peers alike and continue to do so in order to share the wisdom and effective guidance that Ken and Jesse provide on each and every page." —John Calipari, Head Coach, University of Kentucky Basketball, two-time National Coach of the Year, and author of the national bestseller Bounce Back "I LUV this heartwarming lesson from Blanchard and Stoner and urge anyone who wants to develop a clear vision to study the messages clearly and articulately delivered on each page of Full Steam Ahead!" —Colleen Barrett, President Emeritus, Southwest Airlines Company and coauthor of Lead with LUV "In order to do your personal best, you must have a vision. To me a clear vision answers the question, 'What mountain do we want to climb?' Full Steam Ahead! is a wonderful guidebook that will not only help you find your mountain, but will give you all the roadmaps and tools you'll need to make it to the top. Highly recommended!" —Garry Ridge, CEO, WD-40 Company and coauthor of Helping People Win at Work "A clear vision gives an organization heart. Without it, work will have no meaning. Full Steam Ahead! is a must read." —James H. Amos, Jr., Chairman Emeritus, Mail Boxes, Etc. "Before beginning any kind of planning, everyone on the team should read this book. It will ensure you're headed in the right direction. Full Steam Ahead! should be required reading." —Barbara Bennett, Former Executive Vice President, The Stanley Works "Leadership is about going somewhere. Without a clear vision your leadership doesn't matter. Full Steam Ahead! will help your leadership efforts get started in the right direction." —James E. Despain, former Vice President, Caterpillar, and author of And Dignity for All "Great things come from a powerful vision—fortunes are made, diseases get cured, and democracies are born. Blanchard and Stoner not only teach readers how to develop a potent vision in Full Steam Ahead!, but also how to bring it alive in the hearts and minds of the people who will make it happen." —Robert W. Jacobs, author of Real Time Strategic Change "Blanchard and Stoner demonstrate how clear vision helps you focus on the results you desire. Time is a precious commodity. Full Steam Ahead! shows you how to get the most out of your efforts." —Loyal Nordstrom, President, Honolulu Holdings, Inc.