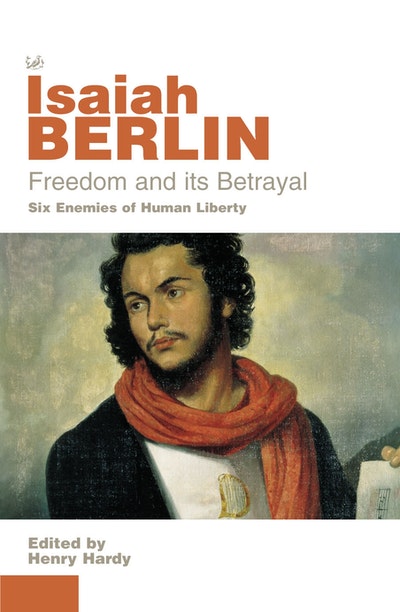 Published:

1 April 2003

ISBN:

9780712668422

Imprint:

Pimlico

Format:

Trade Paperback

Pages:

208

RRP:

$35.00
Freedom And Its Betrayal
---
---
'Never before had someone addressed such abstract topics with such fluency and intensity - these lectures, while presupposing no specialist expertise, introduce some of the key issues in modern political theory in an enthusiastic and quite unpatronising way' Noel Malcolm, Sunday Telegraph
Isaiah Berlin's celebrated radio lectures on six formative anti-liberal thinkers were delivered on the BBC's Third Programme in 1952. They are published here for the first time, fifty years on. Freedom and its Betrayal is one of Isaiah Berlin's earliest and most convincing expositions of his views on human freedom and the history of ideas, views which later found expression in such famous works as 'Two Concepts of Liberty', and were at the heart of his lifelong work on the Enlightenment and its critics.
In his lucid examinations of sometimes difficult ideas Berlin demonstrates that a balanced understanding and a resilient defence of human liberty depend on learning both from the errors of freedom's alleged defenders and from the dark insights of its avowed antagonists. This book throws light on the early development of Berlin's ideas, and supplements his already published writings with fuller treatments of Helvétius, Rousseau, Fichte, Hegel and Saint-Simon, with the ultra-conservative traditionalist Maistre bringing up the rear.
Freedom and its Betrayal shows Berlin at his liveliest and most torrentially spontaneous, testifying to his talents as a teacher of rare brilliance and impact. Listeners tuned in expectantly each week to the broadcasts and found themselves mesmerised by Berlin's astonishingly fluent extempore style. A leading historian of ideas, who was then a schoolboy, records that the lectures 'excited me so much that I sat, for every talk, on the floor beside the wireless, taking notes'. This excitement is at last recreated here for all to share.
Published:

1 April 2003

ISBN:

9780712668422

Imprint:

Pimlico

Format:

Trade Paperback

Pages:

208

RRP:

$35.00