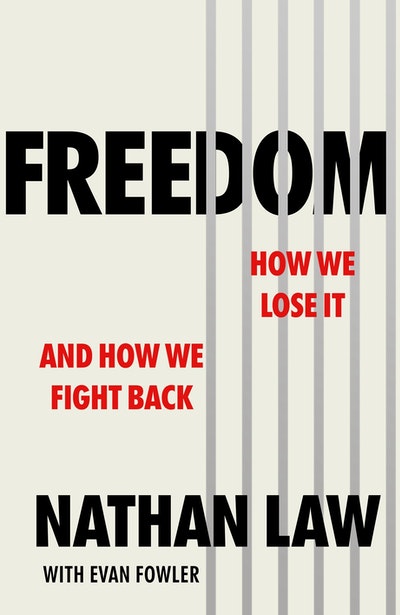 Published:

16 November 2021

ISBN:

9781787635432

Imprint:

Bantam Press

Format:

Trade Paperback

Pages:

240

RRP:

$35.00
Freedom
How we lose it and how we fight back
---
---
---
This urgent manifesto from a Nobel Peace Prize nominee argues that until all of us are free, none of us are.
Nobel Peace Prize nominee Nathan Law has experienced first-hand the shocking speed with which our freedom can be taken away from us, as an elected politician arrested simply for speaking his mind.
He remembers what it is like to lack freedom - and his father's precarious three-day escape from China in a small rowing boat.
When authoritarianism makes gains around the world, demanding our silence as the price of doing business, it poses a challenge to democracy everywhere.
In this passionate rallying cry, Law argues that we must defend our freedom now or face losing it for ever.
Published:

16 November 2021

ISBN:

9781787635432

Imprint:

Bantam Press

Format:

Trade Paperback

Pages:

240

RRP:

$35.00
Nathan Law's agonising account of China's ruthless takeover of Hong Kong provides a terrible insight into Beijing's ambitions - the world needs to read this before other Pacific entities are swallowed up.

<b>Jon Snow</b>
In Freedom, Nathan Law paints a deeply personal portrait of sheer courage, as he tells the world of his struggle - and that of the countless Hongkongers who have marched and protested - for the rights and freedoms that were promised to Hong Kong but have been cruelly denied by Beijing. Nathan's story is a poignant and resounding defence of the sanctity of freedom, as both an unalienable political right and a precious moral one that is foundational to human dignity. Particularly as Beijing accelerates its campaign of repression and intimidation against the people of Hong Kong, Freedom is an essential and timely read, warning policymakers, advocates and all people of the erosion to freedom happening before our eyes and equipping us to combat this challenge.

<b>Speaker Nancy Pelosi</b>
Freedom is a dark inside tale about the downfall of one of the great world cities. Law's story shows how, under the pressure of totalitarianism, the boundaries between the political and the personal no longer exist. In their chilling account Nathan Law and his co-author Evan Fowler show us how the Chinese Communist Party goes after the individual, poisons relationships and destroys the fabric of society. The fate of Hong Kong concerns all of us, and Freedom is a timely reminder that China's actions are a challenge to democracies everywhere.

Kai Strittmatter, author of <i>We Have Been Harmonised</i>
A heartfelt primer... the moderate and thoughtful Law is nothing like the radical agitator of Beijing's imagination.

Victor Mallet, Financial Times
Law's most significant personal act of political freedom may be the publication of [this] book... Law's book serves as a record of what his generation stood for-and what has happened to the people of Hong Kong-no matter which substitute version of history Beijing promulgates... He reminds readers that every generation must fight for and earn its freedom and democracy.

Foreign Policy
A nation's slide into authoritarianism is a bit like falling asleep - it happens slowly at first, then all at once... Law offers a warning and a wake up call.

New Statesman