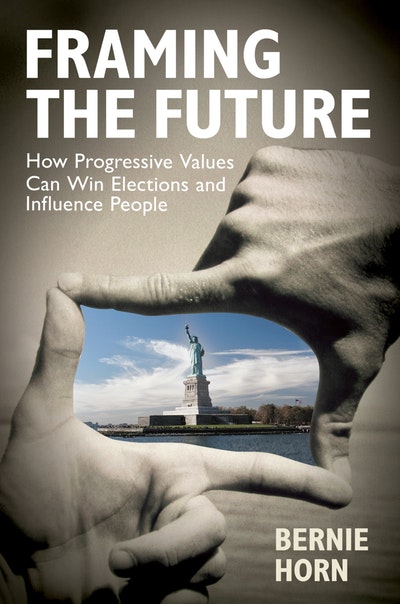 Published:

1 January 2018

ISBN:

9781576754597

Imprint:

Berrett-Koehler

Format:

Hardback

Pages:

192

RRP:

$44.99
Framing The Future
---
---
Polls consistently show that most Americans are progressives at heart. By margins of at least two to one, they we favor affordable healthcare for all, even if it means raising taxes; want federal action to combat global warming; support stricter gun control; don't want Roe vs. Wade overturned; and the list goes on. So why is it so hard for progressive candidates to win elections?
Because, says Bernie Horn, most progressives don't know how to explain their ideas in ways that resonate with "persuadables"—the significant slice of the electorate who don't instantly identify as Democrats or Republicans. These are the voters who swing elections. There's been a lot of theoretical discussion about framing lately, but Framing the Future isn't theory—the concepts outlined have been used successfully by progressive candidates across the nation, even in such conservative bastions as Montana, Arizona, and Florida.
Drawing on rigorous polling data and his own experience as a veteran political consultant, Horn explains how persuadable voters think about issues and make political decisions and why, as a result, the usual progressive approaches are practically designed to fail with them. He offers a crash course in the nuts and bolts of framing and shows how to use three bedrock American values—freedom, opportunity, and security—to frame progressive positions in a way that creates a consistent, unified political vision that will appeal to persuadable voters. He even offers advice on specific words and phrases to use when talking about a variety of issues and ideas.
Published:

1 January 2018

ISBN:

9781576754597

Imprint:

Berrett-Koehler

Format:

Hardback

Pages:

192

RRP:

$44.99
Praise for Framing The Future
"Every football player requires a playbook from their coach. For public servants with progressive values, author Bernie Horn is our coach and Framing the Future is our playbook." —Congressman Kendrick B. Meek "This is a great book! Bernie explains values and framing in a practical way that every activist can use. If you liked George Lakoff's Don't Think of an Elephant, you'll love this." —Celinda Lake, President, Lake Research Partners, and coauthor of What Women Really Want: How American Women Are Quietly Erasing Political, Racial, Class, and Religious Lines to Change the Way We Live "Bernie Horn's Framing the Future is a brilliant analysis of political processes and communication and an essential tool kit for every progressive politician, activist, and interested voter!" —Thom Hartmann, Air America Radio host and author of Cracking the Code: How to Win Hearts, Change Minds, and Restore America's Original Vision "Bernie has been a campaign manager, a media consultant, a policy director and—most dear to my heart—one of the chief lobbyists for the Brady Bill.  His book is based on decades of hard-nosed political experience.  And believe me, Bernie really knows his stuff." —Sarah Brady, Chair of the Brady Campaign to Prevent Gun Violence and author of A Good Fight "Bernie Horn offers forthright, practical advice in this engaging hands-on manual on how to win elections by winning the war of words. A must read for bloggers, political operatives, and all who love our country." —Kathleen Kennedy Townsend, former Lieutenant Governor of Maryland and author of Failing America's Faithful: How Today's Churches Are Mixing God with Politics and Losing Their Way