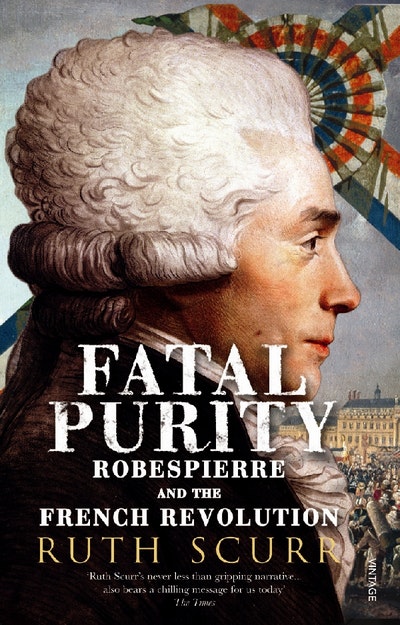 Published:

1 June 2007

ISBN:

9780099458982

Imprint:

Vintage

Format:

Paperback

Pages:

400

RRP:

$35.00
Fatal Purity
Robespierre and the French Revolution
---
---
How idealism turned to blood: a powerful new portrait of the most enigmatic politician of all times, and a vivid re-reading of the turbulent French Revolution itself.
Robespierre was only 36 when he died, sent to the guillotine where he had sent thousands ahead of him. Only a few months before, this pale and fragile man, formal, anxious to the point of paranoia, steeled by deep-held principles, had held centre place in the new Festival of the Supreme Being, wearing his sky-blue coat and decreeing a new religion for France. Robespierre and the Revolution were inseparable: a single inflexible tyrant. But what turned a shy young lawyer into the living embodiment of the Terror at its most violent? Admirers called him 'the great incorruptible'; critics dubbed him a 'monster', a 'bloodthirsty charlatan'; even his friends found him hard to understand.
Ruth Scurr sheds a dazzling new light on this puzzle, tracing Robespierre's life from a troubled childhood in provincial Arras to the passionate idealist, fighting for the rights of the people, and sweeping on to the implacable leader prepared to sign the death warrant for his closest friends. No backdrop can match the French revolution: it burns with human interest. As Scurr says, 'More than haunting, it obsesses, because it will not lie down and die'. Her brilliant, probing narrative brings the Revolution and its chilling hero to fiery life once again, helping us to understand how ideals and fanaticism can so often go hand in hand, as they still do today.
Published:

1 June 2007

ISBN:

9780099458982

Imprint:

Vintage

Format:

Paperback

Pages:

400

RRP:

$35.00
This is a biography that will stimulate all those interested in the subject of state terror

Antonia Fraser, The Times
Scurr has an important tale to tell, and she tells it judiciously

Lucy Hughes-Hallett, Sunday Times
Ruth Scurr's aim, in this well written first book, is to provide an accessible, up - to date biography that draws on all this work, and represents Robespierre as a human being rather than as a monster of legend. She succeeds impressively

Munro Price, Sunday Telegraph
This splendidly balanced account of an unbalanced mind proves that there are monsters of virtue as well as monsters of vice

Graham Robb, Daily Telegraph
It is judicious, balanced, and admirably clear at every point....It is quite the calmest and least abusive history of the Revolution you will ever read

Hilary Mantel, London Review of Books
Engaging and insightful biography... Scurr writes with sensitivity and clarity about this paradoxical individual

Scotland on Sunday
Ruth Scurr takes on one of the most enigmatic of historical figures in this thoroughly researched, well-written biography

Robin Buss, Independent on Sunday
Scurr brilliantly evokes the sheer speed and intensity of change after the fall of the Bastille

Rebecca Abrams, Guardian