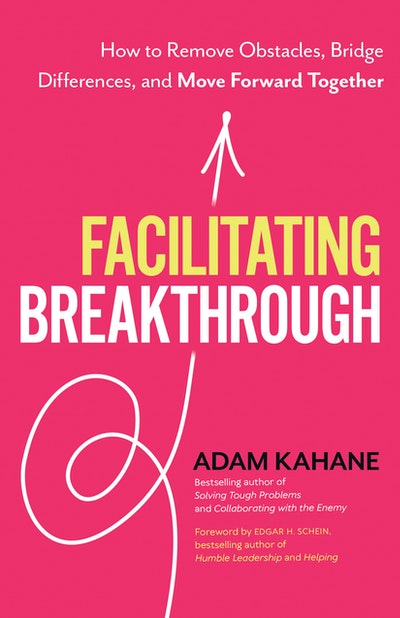 Published:

16 November 2021

ISBN:

9781523092048

Imprint:

Berrett-Koehler

Format:

Paperback

Pages:

192

RRP:

$29.99
Facilitating Breakthrough
How to Remove Obstacles, Bridge Differences, and Move Forward Together
---
---
This book introduces a new approach to solving any stubborn, intractable conflict, based on the author's experiences bringing people together in international hot spots like South Africa, Columbia, India, and more.
People today face increasing complexity and decreasing control. They need to work with more people across more divides. But the traditional ways of advancing—subsuming individual interests to the good of the whole, or providing total autonomy for all stakeholders to work out their own solution—aren't adequate to resolving these difficult situations.
Drawing on his experiences working with Black people and white people in post-apartheid in South Africa, First Nations people and the government in Canada, multiple stakeholders in war-torn Columbia, and many more, Kahane describes what he calls transformative facilitation. It combines the two approaches, cycling back and forth between them. The facilitator pays careful attention to what is going on in the group and decides which approach will work best at any given moment.
Adam Kahane describes precisely what the facilitator needs to watch for and how to manage the delicate balance between a focus on the collective and a focus on specific stakeholder needs. This book is for anyone who helps people collaborate in any setting. Not only does it offer a way to facilitate breakthroughs, it is a breakthrough in itself.

Published:

16 November 2021

ISBN:

9781523092048

Imprint:

Berrett-Koehler

Format:

Paperback

Pages:

192

RRP:

$29.99