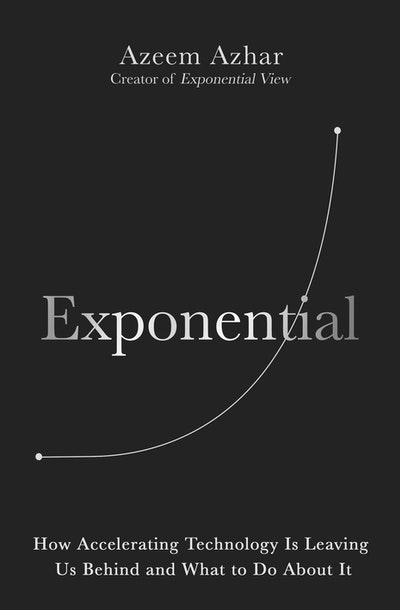 Published:

14 September 2021

ISBN:

9781847942913

Imprint:

Random House Business

Format:

Trade Paperback

Pages:

352

RRP:

$35.00
Exponential
How Accelerating Technology Is Leaving Us Behind and What to Do About It
---
---
---
A revelatory take on where technology is taking us, from one of the worlds most-followed tech writers.
'Essential . . . Highly recommended!' Reid Hoffman, co-founder of LinkedIn
We are entering the Exponential Age. Between faster computers, better software and bigger data, ours is the first era in human history in which technology is constantly accelerating.
Azeem Azhar - writer, technologist, and creator of the acclaimed Exponential View newsletter - understands this shift better than anyone. Technology, he argues, is developing at an increasing, exponential rate. But human society - from our businesses to our political institutions - can only ever adapt at a slower, incremental pace. The result is an 'exponential gap', between the power of new technology and our ability to keep up.
In Exponential, Azhar shows how this exponential gap can explain our society's most pressing problems - from established businesses' difficulty keeping up with digital platforms, to the sclerotic response of liberal democracies to fast-moving social problems. And he draws on cutting-edge social science to explain how to stop the exponential gap eroding our economies, our politics and our lives.
Exponential technology is upending our society. This book explains how.
'Read this book if you are interested in how we can design a more inclusive and sustainable system with a re-direction of technological change at its centre.' Mariana Mazzucato, UCL professor and author of The Value of Everything and Mission Economy
Published:

14 September 2021

ISBN:

9781847942913

Imprint:

Random House Business

Format:

Trade Paperback

Pages:

352

RRP:

$35.00
Azeem Azhar is one of the best-regarded thought leaders in the industry. But more importantly, he has a broad understanding of the exponential ways technology can be used to solve our biggest problems, shape our society, and bridge cultural divides.

Daniel Ek, founder and CEO of Spotify
Azeem Azhar is one of the best-regarded thought leaders in the industry. But more importantly, he has a broad understanding of the exponential ways technology can be used to solve our biggest problems, shape our society, and bridge cultural divides.

Daniel Ek, founder and CEO of Spotify
Azeem Azhar is one of the best-regarded thought leaders in the industry. But more importantly, he has a broad understanding of the exponential ways technology can be used to solve our biggest problems, shape our society, and bridge cultural divides.

Daniel Ek, founder and CEO of Spotify
As high-tech innovation accelerates in ways that deliver huge benefits to society but also create unique challenges, Azeem Azhar delivers a comprehensive but lively take on the key issues informing what he calls the Exponential Age. It's an essential addition to the ongoing discourse about where these remarkable new technologies can take us, and where we should be aiming to go. Highly recommended!

Reid Hoffman, co-founder of LinkedIn and author of BLITZSCALING
As high-tech innovation accelerates in ways that deliver huge benefits to society but also create unique challenges, Azeem Azhar delivers a comprehensive but lively take on the key issues informing what he calls the Exponential Age. It's an essential addition to the ongoing discourse about where these remarkable new technologies can take us, and where we should be aiming to go. Highly recommended!

Reid Hoffman, co-founder of LinkedIn and author of BLITZSCALING
As high-tech innovation accelerates in ways that deliver huge benefits to society but also create unique challenges, Azeem Azhar delivers a comprehensive but lively take on the key issues informing what he calls the Exponential Age. It's an essential addition to the ongoing discourse about where these remarkable new technologies can take us, and where we should be aiming to go. Highly recommended!

Reid Hoffman, co-founder of LinkedIn and author of BLITZSCALING
Azeem Azhar is a globally recognised voice on technology and its impact. He has written a fascinating and important book, required reading for anyone seeking to understand the new economy and the massive global corporations that seek to dominate that economy.

Matthew Taylor, Chief Executive, Royal Society of Arts
Azeem Azhar is a globally recognised voice on technology and its impact. He has written a fascinating and important book, required reading for anyone seeking to understand the new economy and the massive global corporations that seek to dominate that economy.

Matthew Taylor, Chief Executive, Royal Society of Arts
Azeem Azhar is a globally recognised voice on technology and its impact. He has written a fascinating and important book, required reading for anyone seeking to understand the new economy and the massive global corporations that seek to dominate that economy.

Matthew Taylor, Chief Executive, Royal Society of Arts
Every generation fears technology is changing frighteningly fast. Usually it is hyperbole, the fear of the unknown. But today technological shifts are posing challenges to our security, our democracies, our way of life, our sanity. Azeem Azhar's brilliant book demystifies these exponentially fast changes and - importantly - shows how the chronic volatility can be harnessed for good. Essential reading for anyone who wants to understand how to reclaim a good society from the snapping jaws of looming chaos.

Robert Peston
Every generation fears technology is changing frighteningly fast. Usually it is hyperbole, the fear of the unknown. But today technological shifts are posing challenges to our security, our democracies, our way of life, our sanity. Azeem Azhar's brilliant book demystifies these exponentially fast changes and - importantly - shows how the chronic volatility can be harnessed for good. Essential reading for anyone who wants to understand how to reclaim a good society from the snapping jaws of looming chaos.

Robert Peston
Every generation fears technology is changing frighteningly fast. Usually it is hyperbole, the fear of the unknown. But today technological shifts are posing challenges to our security, our democracies, our way of life, our sanity. Azeem Azhar's brilliant book demystifies these exponentially fast changes and - importantly - shows how the chronic volatility can be harnessed for good. Essential reading for anyone who wants to understand how to reclaim a good society from the snapping jaws of looming chaos.

Robert Peston
While many talk about the rate of innovation, too few talk about its direction. Azeem's new book helps bring that directionality to the surface through a dynamic understanding of the connections between economic, social and technological forces. Read this book if you are interested in how we can design a more inclusive and sustainable system with a re-direction of technological change at its centre.

Mariana Mazzucato, UCL professor and author of THE VALUE OF EVERYTHING and MISSION ECONOMY
While many talk about the rate of innovation, too few talk about its direction. Azeem's new book helps bring that directionality to the surface through a dynamic understanding of the connections between economic, social and technological forces. Read this book if you are interested in how we can design a more inclusive and sustainable system with a re-direction of technological change at its centre.

Mariana Mazzucato, UCL professor and author of THE VALUE OF EVERYTHING and MISSION ECONOMY
While many talk about the rate of innovation, too few talk about its direction. Azeem's new book helps bring that directionality to the surface through a dynamic understanding of the connections between economic, social and technological forces. Read this book if you are interested in how we can design a more inclusive and sustainable system with a re-direction of technological change at its centre.

Mariana Mazzucato, UCL professor and author of THE VALUE OF EVERYTHING and MISSION ECONOMY
A powerful argument . . . Azhar's writing is informative and accessible, and his prescient ideas are only going to become more important.

Hannah Fry, BBC Radio 4 presenter and author of HELLO WORLD
A powerful argument . . . Azhar's writing is informative and accessible, and his prescient ideas are only going to become more important.

Hannah Fry, BBC Radio 4 presenter and author of HELLO WORLD
A powerful argument . . . Azhar's writing is informative and accessible, and his prescient ideas are only going to become more important.

Hannah Fry, BBC Radio 4 presenter and author of HELLO WORLD
Valuable and timely . . . The importance of the book lies in its diligent and comprehensive definition of a new phase in human affairs . . . An enticing and necessary read.

Sunday Times
Valuable and timely . . . The importance of the book lies in its diligent and comprehensive definition of a new phase in human affairs . . . An enticing and necessary read.

Sunday Times
Valuable and timely . . . The importance of the book lies in its diligent and comprehensive definition of a new phase in human affairs . . . An enticing and necessary read.

Sunday Times
Azhar is unapologetically bullish about the power of technology . . . He speaks powerfully about how we need to shape technology to put it back in the service of society.

Guardian
Azhar is unapologetically bullish about the power of technology . . . He speaks powerfully about how we need to shape technology to put it back in the service of society.

Guardian
Azhar is unapologetically bullish about the power of technology . . . He speaks powerfully about how we need to shape technology to put it back in the service of society.

Guardian
The exponentially growing mismatch between the tools available to democracies and the sheer might of technology giants is one of the great challenges of our time . . . Azeem Azhar's excellent book Exponential offers some solutions.

Amol Rajan, BBC News
The exponentially growing mismatch between the tools available to democracies and the sheer might of technology giants is one of the great challenges of our time . . . Azeem Azhar's excellent book Exponential offers some solutions.

Amol Rajan, BBC News
The exponentially growing mismatch between the tools available to democracies and the sheer might of technology giants is one of the great challenges of our time . . . Azeem Azhar's excellent book Exponential offers some solutions.

Amol Rajan, BBC News
A sweeping, engaging, nuanced, and ultimately conflicted look at how recent innovations in computing and other emerging technologies have radically transformed human existence, with consequences that we can hardly fathom . . . A deft and clear-eyed treatment of complex issues such as globalisation and the future of automation . . . Perhaps Azhar's most valuable insight is that conservatively managing the individual risks posed by new technologies will not suffice.

Financial Times
A sweeping, engaging, nuanced, and ultimately conflicted look at how recent innovations in computing and other emerging technologies have radically transformed human existence, with consequences that we can hardly fathom . . . A deft and clear-eyed treatment of complex issues such as globalisation and the future of automation . . . Perhaps Azhar's most valuable insight is that conservatively managing the individual risks posed by new technologies will not suffice.

Financial Times
A sweeping, engaging, nuanced, and ultimately conflicted look at how recent innovations in computing and other emerging technologies have radically transformed human existence, with consequences that we can hardly fathom . . . A deft and clear-eyed treatment of complex issues such as globalisation and the future of automation . . . Perhaps Azhar's most valuable insight is that conservatively managing the individual risks posed by new technologies will not suffice.

Financial Times
A details-rich journey from the discovery of the first transistor in 1947 to the arrival of TikTok.

Reuters
A details-rich journey from the discovery of the first transistor in 1947 to the arrival of TikTok.

Reuters
A details-rich journey from the discovery of the first transistor in 1947 to the arrival of TikTok.

Reuters
Azhar has a knack for interrogating and inverting conventional thinking . . . A convincing case that something extraordinary is taking place in business and society.

Economist
Azhar has a knack for interrogating and inverting conventional thinking . . . A convincing case that something extraordinary is taking place in business and society.

Economist
Azhar has a knack for interrogating and inverting conventional thinking . . . A convincing case that something extraordinary is taking place in business and society.

Economist
A celebration of the world-changing impact of computing technologies . . . Azhar meticulously and smartly makes his case.

MIT Technology Review
A celebration of the world-changing impact of computing technologies . . . Azhar meticulously and smartly makes his case.

MIT Technology Review
A celebration of the world-changing impact of computing technologies . . . Azhar meticulously and smartly makes his case.

MIT Technology Review
As a primer on our latest multi-dimensional technological revolution and how it is rewriting the rules of society, economics and politics, this book is hard to beat.

Books of the Year, Financial Times
As a primer on our latest multi-dimensional technological revolution and how it is rewriting the rules of society, economics and politics, this book is hard to beat.

Books of the Year, Financial Times
As a primer on our latest multi-dimensional technological revolution and how it is rewriting the rules of society, economics and politics, this book is hard to beat.

Books of the Year, Financial Times
A tremendous new book which has far-reaching implications.

Ian Goldin, Founding Director, University of Oxford Martin School
A tremendous new book which has far-reaching implications.

Ian Goldin, Founding Director, University of Oxford Martin School
A tremendous new book which has far-reaching implications.

Ian Goldin, Founding Director, University of Oxford Martin School
As a primer on our latest multi-dimensional technological revolution and how it is rewriting the rules of society, economics and politics, this book is hard to beat.

Books of the Year, Financial Times
As a primer on our latest multi-dimensional technological revolution and how it is rewriting the rules of society, economics and politics, this book is hard to beat.

Books of the Year, Financial Times
As a primer on our latest multi-dimensional technological revolution and how it is rewriting the rules of society, economics and politics, this book is hard to beat.

Books of the Year, Financial Times
How tech companies conquered the world and how their thirst for endless growth shapes the way they operate . . . Heralds an eventful, if rather alarming, new phase in human history.

Books of the Year, The Times
How tech companies conquered the world and how their thirst for endless growth shapes the way they operate . . . Heralds an eventful, if rather alarming, new phase in human history.

Books of the Year, The Times
How tech companies conquered the world and how their thirst for endless growth shapes the way they operate . . . Heralds an eventful, if rather alarming, new phase in human history.

Books of the Year, The Times
Excellent.

Forbes
Excellent.

Forbes
Excellent.

Forbes
We are living through a period of unprecedented technological change . . . Exponential offers a new framework for understanding the impact of technology on the economy, politics and the future.

Forbes
We are living through a period of unprecedented technological change . . . Exponential offers a new framework for understanding the impact of technology on the economy, politics and the future.

Forbes
We are living through a period of unprecedented technological change . . . Exponential offers a new framework for understanding the impact of technology on the economy, politics and the future.

Forbes
Brilliant.

Anil Seth, author of BEING YOU
Brilliant.

Anil Seth, author of BEING YOU
Brilliant.

Anil Seth, author of BEING YOU
Amazing facts . . . I highly recommend it.

Sebastian Mallaby
Amazing facts . . . I highly recommend it.

Sebastian Mallaby
Amazing facts . . . I highly recommend it.

Sebastian Mallaby