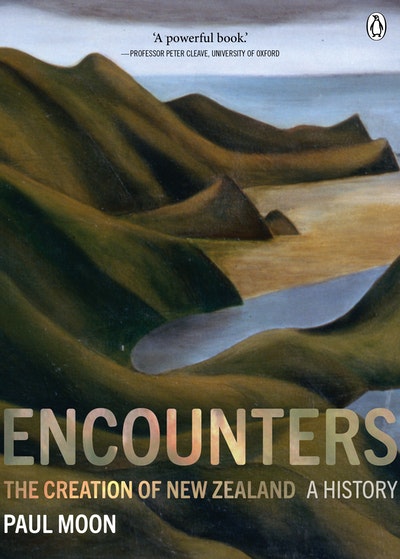 Published:

24 July 2013

ISBN:

9780143568506

Imprint:

Penguin

Format:

Paperback

Pages:

432

RRP:

$44.99
Encounters: The Creation of New Zealand
---
---
Paul Moon's genre-busting history of New Zealand's ever-changing character - a heady exploration through Maori myths, early settlement, the All Blacks, the Speight's 'Southern Man', art and the New Zealand landscape

'Throughout its human history, New Zealand has been interpreted and experienced in often radically different ways. Each wave of arrivals to its shores has left its own set of views of New Zealand on the country – applying a new coat of mythology and understanding to the landscape, usually without fully removing the one that lies beneath it.'
Encounters is the wide-ranging, audacious and gripping story of New Zealand's changing national identity, how it has emerged and evolved through generations.
In this genre-busting book, historian Paul Moon delves into how the many and conflicting ideas about New Zealand came into being. Along the way, he explores forgotten crevices of the nation's character, and exposes some of the mythology of its past and present.
These include, for example, the earliest Maori myths and the 'mock sacredness' of the All Blacks in the twenty-first century; the role of nostalgia in our national character, both Maori and Pakeha; whether the explorer Kupe existed; the appeal of the Speight's 'Southern Man'; and ruminations on New Zealand art and landscape.
What results is an absorbing piece of scholarship, an imaginative and exuberant epic that will challenge preconceptions about what it means to be a New Zealander, and how our country is understood.
Lyrical, breathtaking and provocative, and illustrated with artworks throughout, Encounters offers an extraordinary insight into the beginnings of our country.

Published:

24 July 2013

ISBN:

9780143568506

Imprint:

Penguin

Format:

Paperback

Pages:

432

RRP:

$44.99
Praise for Encounters: The Creation of New Zealand
'Moon deftly guides his readers through the many layers of stories and narratives that have accreted around the place we call Aotearoa/New Zealand . . . he gently reveals some of this myth-making to be harmless nationalism, [but also notes] the sometimes delusional nature of these invented histories.'

PRH, PRH
—Aaron Smale, Mana

PRH, PRH
'[Encounters] captures the big picture, the inherent quality that is 'our' New Zealand: a new land, new opportunities.'

PRH, PRH
—Otago Daily Times

PRH, PRH
'Encounters comprises a kaleidoscope of essays on a rich diversity of elements that have made us what we are, and is highly recommended.'

PRH, PRH
—Sir Bob Jones, New Zealand Herald

PRH, PRH
'Consistently engaging and highly readable.'

PRH, PRH
—David Eggleton, Landfall

PRH, PRH
'Encounters is Paul Moon's most ambitious and best book to date. It is elegant, witty, erudite, illuminating and sometimes provocative. It has been beautifully produced by Penguin with colour reproductions sprinkled throughout the book that augment and enrich the lively text.'

PRH, PRH
—Tom Brooking, Journal of New Zealand & Pacific Studies

PRH, PRH