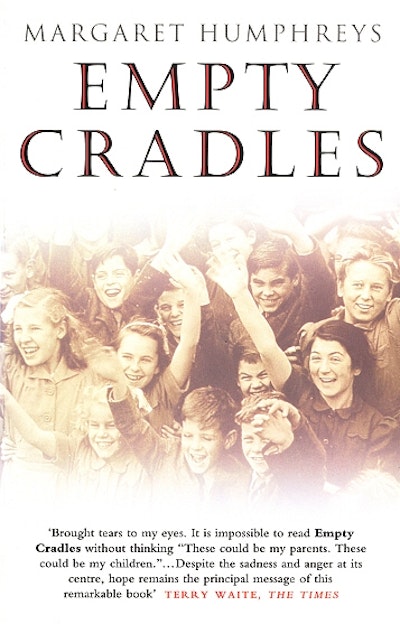 Published:

15 July 2009

ISBN:

9780552159586

Imprint:

Corgi

Format:

Paperback

Pages:

384

RRP:

$32.99
Empty Cradles
---
---
The shocking, moving story of the child migrants betrayed by Britain.
EMPTY CRADLES is a powerful testament to an ordinary woman's astonishing dedication, compassion and stubborn courage.
In 1986 Margaret Humphreys, a Nottingham social worker and mother of two, investigated the case of a woman who claimed that, at the age of four, she had been put on a boat to Australia by the British government. At first incredulous, Margaret Humphreys soon discovered that this woman's story was just the tip of an enormous iceberg. As many as an estimated 150,000 children had in fact been deported from children's homes in Britian and shipped off to a 'new life' in distant parts of the Empire - the last as recently as 1967.
Many of the children were told that their parents were dead. Their parents, too, were often deceived; many believed that their children had been adopted in Britain. The reality was very different: for numerous children it was to be a life of horrendous physical and sexual abuse in institutions in Western Australia and elsewhere.
Margaret Humphreys reveals how she gradually unravelled this shocking secret; how she became drawn into the lives of some of these innocent and unwilling exiles, how it became her mission to reunite them with their families in Britain, and how her lonely crusade led to the founding of the Child Migrants Trust.
EMPTY CRADLES is a strong indictment of government, as well as charitable and religious organisations. It is a sad, harrowing story that will move the reader to anger and tears. Yet it offers a message of hope to all the victims of a shameful scandal that has been ignored for too long.
Published:

15 July 2009

ISBN:

9780552159586

Imprint:

Corgi

Format:

Paperback

Pages:

384

RRP:

$32.99
The secrets of the lost children of Britain may never have been revealed if it had not been for [the actions of] Margaret Humphreys.

Sunday Times
It is a story that defies belief.

Independent
A truly astonishing, haunting, real-life detective story.

She
Brought tears to my eyes. It is impossible to read Empty Cradles without thinking "These could be my parents. These could be my children."...Despite the sadness and anger at its centre, hope remains the principal message of this remarkable book.

The Times
A modern Florence Nightingale.

Sydney Morning Herald