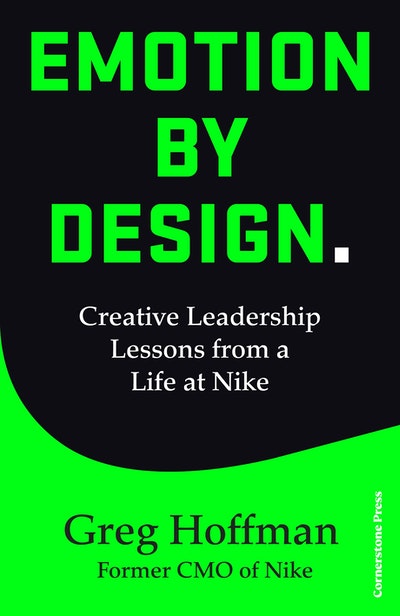 Published:

12 April 2022

ISBN:

9781847943552

Imprint:

Random House Business

Format:

Trade Paperback

Pages:

320

RRP:

$35.00
Emotion by Design
Creative Leadership Lessons from a Life at Nike
---
---
---
From the creative genius behind Nike's most audacious campaigns comes this revelatory guide to creativity in business
A revelatory guide to creativity in business, from the genius behind Nike's greatest campaigns
Just do it. Find your greatness. Believe in something. For decades, Nike's campaigns have been so radically creative that they make an indelible mark on the public imagination - and, just sometimes, change how the world thinks.
It's an art form that Greg Hoffman understands better than anyone. Over 30 years at Nike, he crafted some of the most iconic campaigns in history: from Colin Kaepernick's 'Dream Crazy' ad, to the instantly recognisable logos used by Roger Federer and Serena Williams. By the end of his career, he was Chief Marketing Officer - responsible for maintaining the brand recognition of the Nike swoosh everywhere on Earth.
Now, Hoffman reveals the simple principle that Nike use to power their creativity: emotion by design. Combining scientific analysis and artistic daring, emotion by design helps Nike forge deep, personal bonds with their customers - crafting campaigns that chime with people's most audacious dreams.
But this method needn't be limited to Nike. In Emotion by Design, Hoffman reveals how you too can drive your creativity the Nike way: by drawing on the talents of a diverse team, by forging a culture where everyone is hypercreative, and by spotting which ideas have the potential to capture imaginations around the world.
The result is a masterclass in creativity, gleaned from a lifetime with one of the world's most innovative brands. We can all harness the power of emotion by design.
Published:

12 April 2022

ISBN:

9781847943552

Imprint:

Random House Business

Format:

Trade Paperback

Pages:

320

RRP:

$35.00
Praise for Emotion by Design
A brand isn't a logo, it's a story. In this guidebook-plus-memoir, Greg helps us see how a commitment to our creative practice can make any story better.

Seth Godin
Emotion by Design is Greg Hoffman's transformative and intensely personal journey building one of the world's most important, groundbreaking brands. It's a must-read if you work with creatives, and if you want to unlock their unique genius to build authentic brands and waves of support across your entire company.

Laszlo Bock, author of WORK RULES!
Not only does Emotion by Design offer a gripping insight into the creation of some of the most iconic marketing in history, it is also a powerful love letter to the power of a sense of purpose in doing our work.

Bruce Daisley, author of THE JOY OF WORK
This is the ultimate playbook to unleash creativity in any team - and in turn effect real, transformative change for you and your company.

Jake Humphrey, author of HIGH PERFORMANCE
Establishing an emotional connection is critical for building a brand. In this brilliant book, Greg Hoffman draws on a lifetime of experience at Nike to reveal how any team can make brand connections stronger. It's a must-read for any marketer, businessperson or creative.

Nir Eyal, author of HOOKED and INDISTRACTABLE
Filled with remarkable stories from Greg Hoffman's time at Nike, Emotion by Design offers a distinctive framework that will help marketers and creatives connect with their audiences like never before. Highly recommended.

Professor Jonah Berger, Wharton Business School, author of CONTAGIOUS
An unforgettable account of a man and a business that never had to try to be someone else's idea of cool - because they had already defined it themselves.

Rory Sutherland, Vice-Chairman, Ogilvy and author of ALCHEMY
Reading this book made me smile in my soul, proving that creativity, community and empathy has created one of the greatest brands of our lifetime.

Mary Portas
Great story, amazing career, so inspirational . . . What a book. I couldn't put it down.

Chris Evans
Greg Hoffman has inspired me tremendously . . . An affirming and reaffirming force.

Steven Bartlett, author of HAPPY SEXY MILLIONAIRE