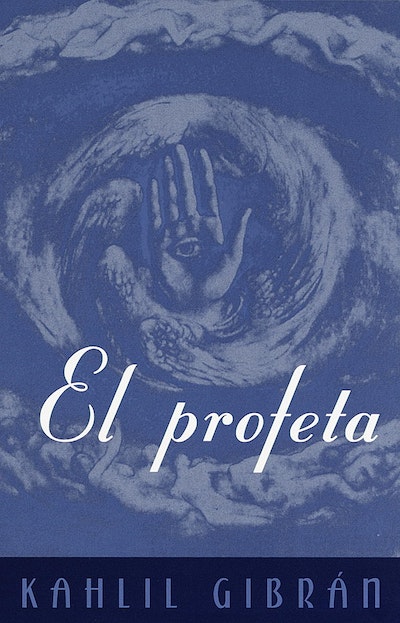 Published:

15 March 1999

ISBN:

9780375701627

Imprint:

Knopf US

Format:

Paperback

Pages:

112

RRP:

$24.99
El Profeta (Edicion original en español)
The Prophet
---
---
Las doce ilustraciones en este volumen fueron reproducidas de los dibujos originales del autor.
La obra maestra de Kahlil Gibrán es uno de los más queridos clásicos de nuestra época, un repositorio rico en sabiduría y alegría que ha inspirado a generaciones de lectores.
Con poesía frugal y bellamente resonante, El profeta ofrece inolvidables palabras de esperanza y consolación sobre los temas del nacimiento, del amor, del matrimonio, de la muerte y de los otros hitos de la vida.
Desde su publicación hace más de setenta años, El profeta ha sido traducido a más de veinte idiomas y ha dado inspiración a millones de lectores, quienes encuentran en sus palabras la expresión de los más profundos impulsos, la más profunda poesía, del corazón humano.  Ilustrados con los dibujos místicos de Gibrán -comparados por Auguste Rodin a los de William Blake- El profeta es un volumen para disfrutar y al cual volver a lo largo de la vida.
ENGLISH DESCRIPTION
"My all-time favorite collection of poems . . . [Gibran's] poetry always roots me in my humanity." –Rupi Kaur, #1 New York Times bestselling author of Milk and Honey, The Sun and Her Flowers, and Home Body
The most famous work of spiritual fiction of the twentieth century, The Prophet is rooted in Kahlil Gibran's own experience as an immigrant and provides inspiration to anyone feeling adrift in a world in flux. As a prophet named Almustafa is about to board a ship to travel back to his homeland after twelve years in exile, he is stopped by a group of people who ask him to share his wisdom before he leaves. In twenty-eight poetic essays, he does so, offering profound and timeless insights on many aspects of life, including love, pain, friendship, family, beauty, religion, joy, sorrow, and death.
An immediate success when first published in 1923, The Prophet is a modern classic, having been translated into more than forty languages and sold more than ten million copies in the United States alone. The message it imparts, of finding divinity through love, made it the bible of 1960s culture and continues to touch hearts and minds across generations and national borders.
In the sweetness of friendship let there be laughter, and sharing of pleasures.
For in the dew of little things the heart finds its morning and is refreshed.
Published:

15 March 1999

ISBN:

9780375701627

Imprint:

Knopf US

Format:

Paperback

Pages:

112

RRP:

$24.99