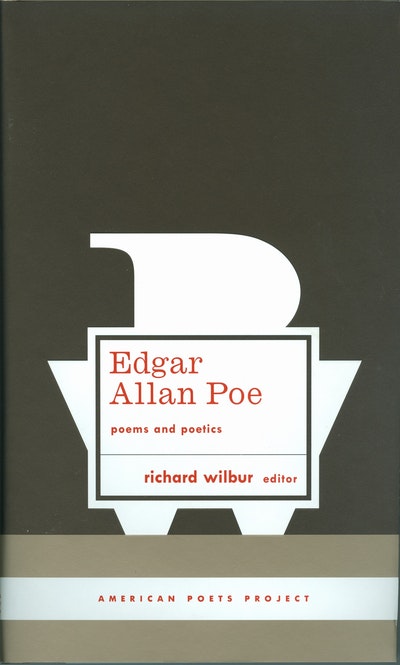 Published:

13 October 2003

ISBN:

9781931082518

Imprint:

Library of America

Format:

Hardback

Pages:

204

RRP:

$33.99
Edgar Allan Poe
Selected Tales with The Narrative of Arthur Gordon Pym
---
---
---
Richard Wilbur, a former Poet Laureate of the United States and one of the most admired poets and critics of his generation, revisits the poetry of Poe, exploring the philosophical seriousness of verse often identified with its macabre and gothic surfaces. Here is the whole canon of Poe's mature poetry, along with a judicious selection of prose writings that illuminate Poe's poetic goals.
"Our poetry, in Poe's view, must specialize in aesthetic transcendence, eschewing the truth, morality, and passion which might entangle it with this present world. The whole movement of Poe's poetry is away from the material here and now. . . . The poet's strategy is to accomplish a mock-destruction of earthly things, estranging the reader from material reality and so, presumably, propelling his imagination toward the ideal." — Richard Wilbur, from the introduction
About the American Poets Project
Elegantly designed in compact editions, printed on acid-free paper, and textually authoritative, the American Poets Project makes available the full range of the American poetic accomplishment, selected and introduced by today's most discerning poets and critics.
Published:

13 October 2003

ISBN:

9781931082518

Imprint:

Library of America

Format:

Hardback

Pages:

204

RRP:

$33.99
Praise for Edgar Allan Poe
"Poe is so frequently reprinted that another selection can't possibly seem fresh. Reading him with the guidance of Wilbur, however, helps one think about him again. . . . [Wilbur] appends selections from Poe's writings about poetics to help understanding of his cosmology and discusses some of Poe's most intense stories to exemplify his symbolism. The poems, presented chronologically, show again what a young prodigy Poe was, formulating his poetic thought while still in his teens, and what a sonorous Romantic musician he became." —Booklist