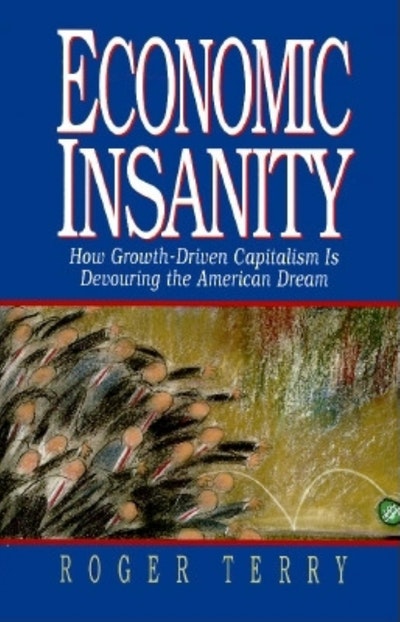 Published:

1 January 2018

ISBN:

9781881052326

Imprint:

Berrett-Koehler

Format:

Hardback

Pages:

208

RRP:

$54.99
Economic Insanity
---
---
"Economic insanity" describes what is happening in America and the wider world beyond its borders. The economy is out of control-out of our control-to the point that it is in control. The economy has divorced itself from the political and social ideals that define the American Dream, which has been transformed from an all-inclusive social ideal to an economic fantasy.
In Economic Insanity, Roger Terry explains how and why economics has come to dominate all aspects of our lives. Basic political, social, and moral values used to hold us together as a nation. Today, it seems, the economy is all that holds us together. The most drastic effects of the rise of Economic America are the impoverishing of democracy, the loss of liberty, and the abandonment of equality. Terry shows how our present system is failing at its most fundamental task-to provide for the physical needs and wants of human beings-and concludes that the system does not need fixing, it needs to be replaced.
This provocative proposal exposes the misconceptions that drive our economic system and offers systemic and revolutionary solutions. With passion and persuasiveness, Terry asserts that in order to recapture the American Dream, we must begin to subject the economy to the ideals of democracy, liberty, equality, and unity.
Terry questions, and suggests we abandon, four fundamental pillars of capitalism: endless economic growth, ever-increasing productivity, accelerating technological advances, and self-interest. He shows how these basic assumptions that drive our version of the free-market system are causing a host of interrelated and deeply entrenched problems. He explores critical social dilemmas that result from our current economic assumptions, including the loss of personal freedom and democracy, the perpetual and unavoidable increase in inequality, and the disuniting of America. If we are to turn our nation from this path of folly, Terry argues, we must first abandon the faulty assumptions that drive our thinking.
Terry proposes a solution that redefines the notion of capital ownership, creating a system of limited, widespread ownership in which individuals own only as much capital as they can make personal productive use of. Under this system, employees become owner/partners, power is returned to people, self-interest is defused, technology is harnessed, and meaningful equality is encouraged.
Incorporating ideas from Adam Smith and Thomas Paine to Paul Johnson and Herman Daly, Economic Insanity challenges readers to stop looking for answers within the system and look instead to changing the system.
Published:

1 January 2018

ISBN:

9781881052326

Imprint:

Berrett-Koehler

Format:

Hardback

Pages:

208

RRP:

$54.99