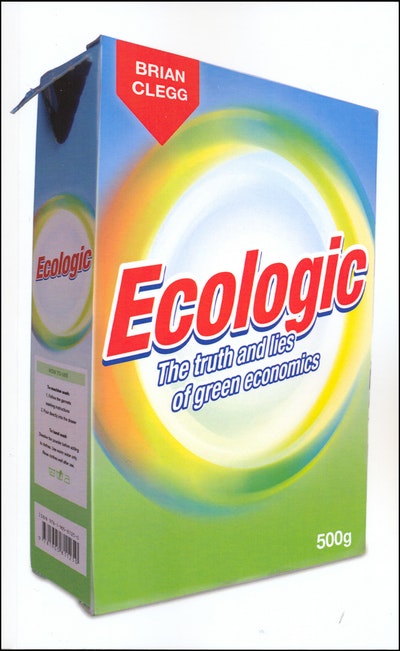 Published:

1 December 2010

ISBN:

9781407041001

Imprint:

Transworld Digital

Format:

EBook

Pages:

352
Ecologic
The Truth and Lies of Green Economics
---
---
The Freakonomics of Green. Clegg takes a scalpel to all things Green, using the combined tools of logic and economics to discover why it is that a subject that should be a no-brainer is so clouded by layers of confusion and deception.
Looking after 'The Environment' should be straightforward - no-one wants to destroy the world. And yet in every 'green' area we are either failing to take the essential steps to prevent destruction of the planet or are being deceived - often by ourselves. By using the scalpel of eco-logic it is possible to open up the reality beneath the layers of confusion and deception, turn recognized situations inside out, identify hidden agendas in the so-called Experts, and come up with real solutions to our green problems.
Examining issues such as Climate Change Sceptics, Celebrity greens and the charity gig bandwagon, 'Fair' trade, Organics, Renewable energy, Recycling, Carbon offsets, Sustainability and much more, ECO-LOGIC is a book to shake up the green movement and give it a new impetus.
Published:

1 December 2010

ISBN:

9781407041001

Imprint:

Transworld Digital

Format:

EBook

Pages:

352
A rational, nuanced analysis of green issues...separating facts from myths and sober fears from irrational panics...Provocative but realistic about what's necessary and what's achievable.

Independent on Sunday
This book crackles. Every paragraph pits your heart against your head. Those with green sensibilities and a nervous disposition may have a cardiac arrest. But the rest of us will have our synapses set alight . . . A cracking read for anyone who cares about both their environmental footprint and their sanity in a world being flooded with greenwash and gobbledegook. (5 stars out of 5).

BBC Focus Magazine
A book which sets out to undermine green myths . . . Clegg demonstrates cases in which sloppy thinking, a poor understanding of science or economics, or a desire for publicity have led to environmentalists making the wrong decisions . . . a challenging book.

The Independent
Debunks a host of climate change myths through the window of human psychology and economics. Read and be shocked.

Emporium magazine