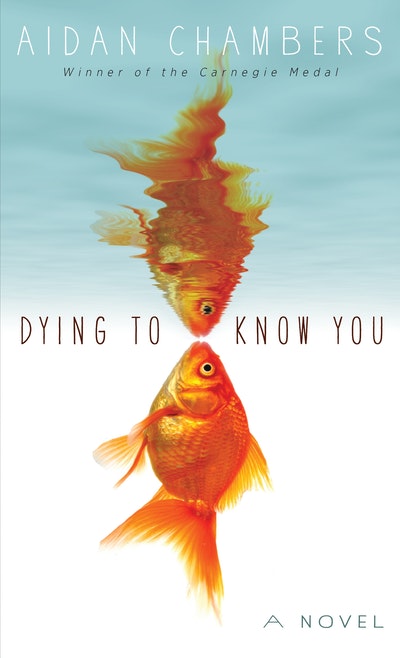 Published:

15 May 2012

ISBN:

9780370332369

Imprint:

Bodley Head

Format:

Hardback

Pages:

288

RRP:

$37.99
Dying to Know You
---
---
---
From the master storyteller, Aidan Chambers, comes this new thought-provoking novel for teenagers.
From the master storyteller, Aidan Chambers, comes this new thought-provoking novel for teenagers.
Karl, aged seventeen, is hopelessly in love. But the object of his affections, Firella, demands proof, and poses him a series of questions regarding his attitude to the many sides of love. But Karl is dyslexic, and convinced that if Firella finds out, she will think he is stupid, and unworthy of her, and leave him.So Karl asks a local writer to help him construct his replies - and an unlikely, but extremely touching, friendship develops between the two men. They both come to learn a great deal about about life from a very different perspective, and when an act of violence shatters their calm, they find their respective appraisal of life shifting in profound ways.
Published:

15 May 2012

ISBN:

9780370332369

Imprint:

Bodley Head

Format:

Hardback

Pages:

288

RRP:

$37.99
Praise for Dying to Know You
Deliberate in pace and carefully insightful in its investigation of character, Chamber's latest is a work of art that repays multiple readings

Michael Cart, Booklist
Packed to the brim with challenging ideas, the latest from Chambers is simultaneously an acutely observed and surprising love story. An organic yet intricately crafted story of self-discovery . . . This is a generous gift

Publishers Weekly
This is a teasingly provocative and touching cross-generational story, written with a rare candour about love, sex, thoughts of suicide and growing old

Julia Eccleshare, Guardian
Chambers is so skilled, so calmly truthful in his writing. What emerges is not just a moving, unexpected story of the complexity of teenagers, but also a story of later life, of ageing and loss, and what experience really means

Patrick Ness, Guardian
It takes a writer with the superb skill and sensitivity of Chambers to adapt the Cyrano de Bergerac story and turn it into a modern tale of grief, growth and acceptance . . . Great tenderness, authentic dialogue and elegantly crafted plotting. A book to be read and re-read

Sally Morris, Daily Mail
A wonderful book about friendship, words, and our deepest, most hidden selves. Elegant, precise prose and wonderful dialogue in which space has as much to say as words. This is a book to return to

The Bookbag
A heart-warming contemporary love story

Booked Up!
Dying to Know You is a thoughtful and insightful novel and after turning the last page I was left with the impression that just maybe this writer's story could be Chambers' too

So Many Books, So Little Time
A gentle tale stuffed full of drama, elements of coming-of-age, dealing with grief and first love that make it irresistible

My Favourite Books
This book is interesting, fun, and very insightful. Chambers takes an inventive approach to his writing

Examiner.com
Truly brilliant and unforgettable

Fiction Fascination
This book is like nothing else I have ever read . . . An excellent YA read

The Overflowing Library
A real page turner

Bliss
Chambers delivers yet another intellectually satisfying novel with equal parts philosophy and repartee

The Horn Book
A feelgood and story that quietly challenges a whole range of touchy subjects and social taboo

Sugarscape