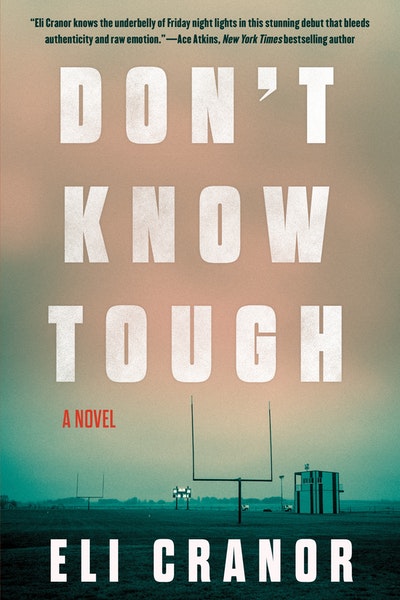 Published:

24 March 2022

ISBN:

9781641293457

Imprint:

Soho Press

Format:

Hardback

Pages:

336

RRP:

$44.99
Don't Know Tough
---
---
Friday Night Lights gone dark with Southern Gothic; Eli Cranor delivers a powerful noir that will appeal to fans of Wiley Cash and Megan Abbott.
In Denton, Arkansas, the fate of the high school football team rests on the shoulders of Billy Lowe, a volatile but talented running back. Billy comes from an extremely troubled home: a trailer park where he is terrorized by his unstable mother's abusive boyfriend. Billy takes out his anger on the fi eld, but when hissavagery crosses a line, he faces suspension.
Without Billy Lowe, the Denton Pirates can kiss their playoff bid goodbye. But the head coach, Trent Powers, who just moved from California with his wife and two children for this job, has more than just his paycheck riding on Billy's bad behavior. As a born-again Christian, Trent feels a divine calling to save Billy—save him from his circumstances, andsave his soul.
Then Billy's abuser is found murdered in the Lowe family trailer, and all evidence points toward Billy. Now nothing can stop an explosive chain of violence that could tear the whole town apart on the eve of the playoffs.
WINNER OF THE PETER LOVESEY FIRST CRIME NOVEL CONTEST
Published:

24 March 2022

ISBN:

9781641293457

Imprint:

Soho Press

Format:

Hardback

Pages:

336

RRP:

$44.99
Praise for Don't Know Tough
Praise for Don't Know Tough   "Imagine a noir Friday Night Lights written by a cross between Megan Abbott and Harry Crews, and you'll get close to what Eli Cranor's pulled off in Don't Know Tough. It's propulsive, twisty, and unputdownable. Cranor cracks open the complex world of high school football in small town Arkansas, giving us characters who are at once savage and tender and tragic, who are capable of acts of great bravery and betrayal. This is a book that shocks us into a new way of seeing. It's lean, muscled up, no-holds-barred noir. I feel lucky to have read it."  —William Boyle, author of Gravesend, The Lonely Witness, A Friend Is a Gift You Give Yourself, and City of Margins   "Don't Know Tough really packs a punch. I enjoyed reading between the lines, dreading the trouble Billy was bringing on himself and his fragile life-chances. At the heart of the book is the pull of loyalties—the football team, the family and religion. The characters involved in all the stresses and strains are well drawn and convincing. It's tough reading, but the humanity shines through." —Peter Lovesey, author of the Peter Diamond mysteries, in his adjudication of the Peter Lovesey First Crime Novel Contest   "Eli Cranor knows the underbelly of Friday night lights in this stunning debut that bleeds authenticity and raw emotion." —Ace Atkins, New York Times bestselling author of The Fallen and The Sinners.