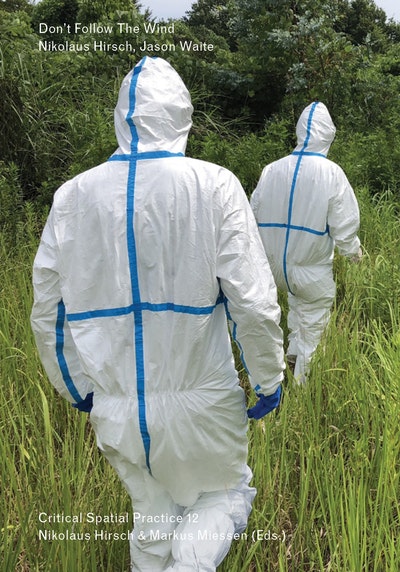 Published:

20 July 2021

ISBN:

9783956795688

Imprint:

MIT Press

Format:

Paperback

Pages:

256

RRP:

$29.99
Don't Follow the Wind
---
---
Documentation of an on-site art exhibition response to the Fukishima nuclear disaster, which won't be seen until the area is no longer contaminated.
The twelfth volume of the Critical Spatial Practices series focuses on Don't Follow the Wind, an internationally-acclaimed collaborative project situated in the radioactive Fukushima exclusion zone. Co-developed and curated by the Don't Follow the Wind collective (composed of Chim-Pom, Kenji Kubota, Jason Waite, Eva and Franco Mattes), Don't Follow the Wind explores the notion of contesting long-term environmental crises through the powerful mnemonic of an ongoing invisible exhibition, maintaining the traces of human presence amidst the contamination that forcibly displaced entire towns.
Don't Follow the Wind is an inaccessible exhibition inside of the restricted Fukushima exclusion zone, a forcibly evacuated radioactive area established in the wake of the 2011 disaster of meltdowns at the adjacent Fukushima Daiichi Nuclear Power Station that contaminated the environment, forcibly separating residents from their homes, land, and community. New commissions by artists Ai Weiwei, Meiro Koizumi, Trevor Paglen, Kota Takeuchi, Ahmet Ögüt, Taryn Simon, Nikolaus Hirsch & Jorge Otero-Pailos, Aiko Miyanaga, Nobuaki Takekawa, Grand Guignol Mirai, Eva and Franco Mattes, and Chim↑Pom were installed at sites around Fukushima lent by former residents. The exhibition opened on March 11, 2015, yet as the exclusion zone remains inaccessible to the public, it is largely invisible--a condition akin to radiation itself. It can only be viewed in the future when restrictions are lifted and the residents are able to return, but there is no clear timeline: several years or decade--a period that could extend beyond our lifetime.
Published:

20 July 2021

ISBN:

9783956795688

Imprint:

MIT Press

Format:

Paperback

Pages:

256

RRP:

$29.99