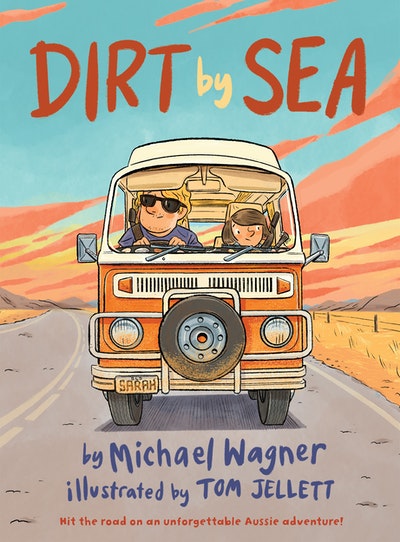 Published:

20 September 2022

ISBN:

9781760894061

Imprint:

Puffin

Format:

Hardback

Pages:

40

RRP:

$24.99
Dirt by Sea
Honour CBCA Picture Book of the Year
---
---
Explore our wonderful coastline and the joy of a family road-trip with Dad and Daisy!
Along the way, they will discover all about Australia and much, much more.
Daisy lives in inland Australia with her dad and her grandparents, loving the red dirt land around her. But when her dad realises she's never seen the beach, they set off on a trip you won't want to miss.
A once-in-a-lifetime father-daughter trip along the Australian coast that was inspired by the first holiday Daisy's dad took with her mum. With a journey map in the endpapers, you or your young ones could even start planning your own Aussie adventure..
For Little Adventurers: What They Will Learn
* An appreciation for the diverse Australian landscape
* The value of quality family time
* The joy of discovering new places
* Emotional growth through a gentle exploration of loss
A Keepsake for All Seasons
Dive into a modern classic with this visually captivating picture book, featuring 40 pages of extraordinary comic-style illustrations. This visual feast perfectly complements the heartwarming, uniquely Australian narrative, engaging both kids and adults.
Ideal for young minds from early childhood to middle primary, it offers an emotionally rich story that nurtures growth. This picture book is a perfect keepsake, equally delightful under a Christmas tree or as a summer day companion, making it a treasured addition to any collection.
-----------------------------
"Vibrant and engaging... " BOOKSELLER AND PUBLISHER
"Destined to become a classic." GLAMADELAIDE
"A most appealing graphic novel in picture book form..." PAPERBARK WORDS
"An entertaining story with thoughtfulness, depth, and lots of fun to be had." MAGPIES
"Engaging dialogues and witty illustrations..." INTERNATIONAL YOUTH LIBRARY
"A book that will bear repeated readings." READPLUS
"It's the new Possum Magic or Wombat Stew." ONE MORE PAGE
Published:

20 September 2022

ISBN:

9781760894061

Imprint:

Puffin

Format:

Hardback

Pages:

40

RRP:

$24.99
. . . vibrant and engaging . . . subtly poignant and deftly constructed . . . Both author and illustrator know exactly when to pull back and allow the other to shine and, together, they have created something rather special.

Michael Earp, Bookseller and Publisher
Carried along in the conversations between the two, it becomes a personal journey of development for Daisy . . . By the time they make it home, neither Dad nor Daisy are the same people who left, and there is a bond between them that the reader knows will endure long into their futures.

Barbara Braxton, Australian Teacher Librarian Network
cleverly illustrated in comic-book style . . . an entertaining story with thoughtfulness and depth and lots of fun to be had

Magpies magazine
This is a joyful trip with lots to see on every colourful, detailed page where the narrative, illustrations and the comics work together seamlessly . . . Destined to become a classic

Jan Kershaw, GlamAdelaide
. . . a most appealing graphic novel in picture book form . . . about a father and daughter's trip around Australia's coastline . . . highlighting their love for each other [and] the vast and diverse beauty of Australia

Joy Lawn, Paperbark Words
. . . engaging dialogues and witty illustrations that celebrate Australia with its diverse culture, fauna, and flora . . . and enjoyable read and will doubtlessly inspire readers to set off on their own read trip as soon as possible.

International Youth Library, The White Ravens - A Selection of International Children's and Youth Literature
CBCA Book of the Year Awards
Honour Award • 2023 • Picture Book
CBCA Book of the Year Awards
Shortlisted • 2023 • Picture Book