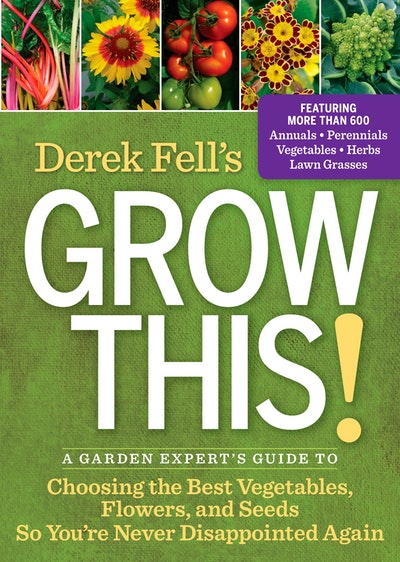 Published:

1 May 2018

ISBN:

9781609618278

Imprint:

Clarkson Potter/Ten Speed

Format:

Trade Paperback

Pages:

336

RRP:

$39.99
Derek Fell's Grow This!
A Garden Expert's Guide to Choosing the Best Vegetables, Flowers, and Seeds So You're Never Disappointed Again
---
---
What gardeners want most is a bigger and better return on their investment of time and money—maximum yields and superior flavor for edibles, long-lasting blooms for flowers. Derek Fell's Grow This! features expert advice for choosing and growing the top-performing plants (and avoiding the ones that disappoint). Derek Fell has grown hundreds of varieties and annually visits gardens and test plots across America, so he's qualified to guide gardeners to the best of the best—more than 600 vegetable, flower, herb, and lawn grass all-stars. He offers honest feedback about plant performance, even when it contradicts favorable public opinion or a grower's claims. Seed racks may be filled with 'Kentucky Wonder' snap beans, but he dismisses that variety as too fibrous and needy and instead recommends 'Blue Lake' beans for tenderness and high yields. Fell's firsthand experience means the difference between choosing plant winners and losers. Packed with insider evaluations from seedsmen, growers, and nursery retailers that readers won't find elsewhere, Derek Fell's Grow This! explains industry lingo and debunks marketing hype to help gardeners select the best-performing plants for all garden conditions and goals.
Published:

1 May 2018

ISBN:

9781609618278

Imprint:

Clarkson Potter/Ten Speed

Format:

Trade Paperback

Pages:

336

RRP:

$39.99