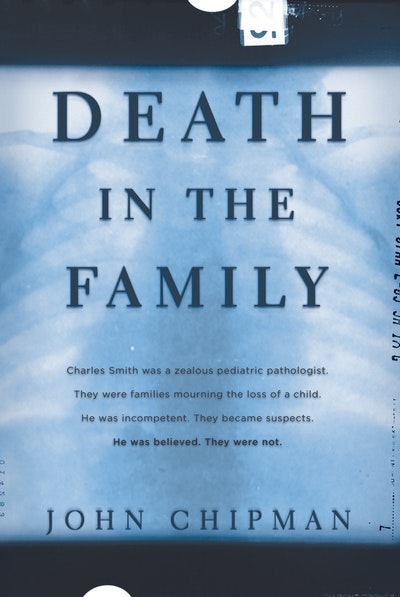 Published:

15 January 2017

ISBN:

9780385680844

Imprint:

Doubleday CAN titles

Format:

Hardback

Pages:

576

RRP:

$52.99
Death In The Family
---
---
In a work of vigorous reporting, careful analysis, deep compassion and unerring integrity, award-winning journalist and documentarian John Chipman investigates the lives left ruined in the wake of Dr. Charles Smith's ignominious career.
In the mid-'90s, the Ontario Coroner's office decided that death investigation teams needed to "think dirty." They wanted coroners, pathologists and police to be more suspicious--to "assume that all deaths are homicides until satisfied that they are not." They were particularly concerned about pediatric deaths, which historically had been exceedingly difficult to investigate. There were usually no witnesses; no evidence to gather at the scene; no outward signs of trauma on the body. If the pathologist did not discover the truth of what had happened, child abuse could go uncovered.
Among those charged to "think dirty" was Dr. Charles Smith, Ontario's top pediatric forensic pathologist at the time. But with virtually no training in forensics, Dr. Smith was ill prepared for his work. Instead of basing his judgments on forensic evidence found during autopsies, he allowed himself to be swayed by circumstantial evidence. The defendants were often single mothers--some on welfare, some struggling with substance abuse. And they made for easy targets. Dr. Smith made dangerous assumptions, and the results were catastrophic. Numerous individuals were pronounced guilty, and incarcerated, on his shaky evidence.
This penetrating investigative work explores the wide ripples of destruction caused when the justice system fails, the burden felt by ethical individuals working within that system and the importance of its victims finally being heard.
Published:

15 January 2017

ISBN:

9780385680844

Imprint:

Doubleday CAN titles

Format:

Hardback

Pages:

576

RRP:

$52.99
Praise for Death In The Family
Praise for The Obsession:  • "The Obsession is an engrossing read. . . . An empathetic telling of an unusual man's story. . . . Read the book." --The Globe and Mail  • "John Chipman has done a fine writing job on this sad story, nimbly moving back and forth through time, peeling back the layers to help readers understand what happened and why. . . . The reader knows from page one that the tale will not end well, but that doesn't diminish the telling." --Toronto Star